Healthy eating has been on trend for quite some time. However, it has become more about including a variety of food groups and eating some foods in moderation. The emphasis is less on the latest short-term diet craze and more on an individualized, life-long and all-around healthy approach to eating.
The Mediterranean diet plan is one that fits this healthy approach to eating. The focus with this plan is on foods including fruits, vegetables, whole grains, beans, nuts and legumes. Next from the bottom of the Mediterranean pyramid comes fish and seafood, then poultry, eggs, cheese and yogurt and finally less meats and sweets.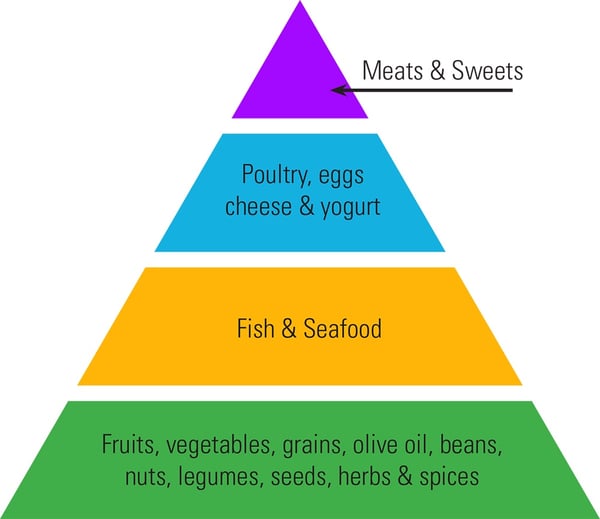 Other key components of the Mediterranean diet include using olive oil instead of butter and flavoring with herbs and spices instead of salt. With some recent research showing an association between moderate alcohol consumption and a reduced risk of heart disease, we can also include optional moderate amounts of red wine as a highlight of the Mediterranean diet.
So, how do you take this trend to your menu? Try incorporating an item or two that fit the Mediterranean diet pyramid and highlight these items on your menu. You could also include suggested wine pairings for your items and lean towards red wine whenever suitable.
Here's a great example of a Mediterranean diet meal:

Smoked Gouda Halibut

SERVES 6
6 each Halibut (368450; 90385546)
1/2 lb Butter
1 cup Breadcrumbs (415638; 415140)
1/2 lb Shullsburg Smoked Gouda Cheese (902181), shredded
As needed Salt
As needed Pepper
As needed Olive Oil
As needed Roland Dijon Mustard (560201)
4 oz Bix Baby Spinach (361175)
As needed Balsamic Vinegar
2 each Cherry Tomatoes (362120; 362125), halved
1 tsp C.H. Robinson Green Onion (361010), diced

1. Place butter in food processor. Add breadcrumbs. Pulse few times to cut butter into breadcrumbs. Add cheese, salt and pepper. Pulse until you get a crumbly consistency.
2. Season halibut with salt and pepper. Brush with olive oil. Grill until almost done. Pull from grill and place on baking sheet.
3. Brush halibut with mustard. Top with breadcrumb mixture.
4. Place in 375°F oven to brown crust and finish halibut.
5. In sauté pan, heat olive oil. Add spinach. Sauté until spinach is cooked down. Add balsamic vinegar and tomatoes.
6. Serve halibut over the spinach and tomatoes.
7. Garnish with green onion.
Source: "Mediterranean diet: A heart-healthy eating plan." Mayo Clinic. Web. 22 July 2015.