Because of the uprising in smoothie popularity, General Mills has provided some information on how to transition your school to adding them to your school menu. It includes delicious recipes that have fresh fruit and newly added yogurt.

Smoothies, which have surged in popularity in recent years, will soon likely transition onto more school menus for breakfast thanks to new USDA guidelines that allow yogurt in smoothies to contribute toward meat/meat alternate requirements at breakfast.
"We would like to add yogurt smoothies to our breakfast menu as they were a big hit among middle school students when we tested them," said Paula Pohlkamp, nutrition services supervisor for North St. Paul District in St. Paul, Minnesota. She said they tested yogurt-based smoothies mixed with frozen fruits on two occasions and had a very good response from students.
The new guidelines present a new opportunity to boost breakfast participation as well as a la carte sales, according to Renee Greiner, RDN, LD, a dietitian for Martin Bros. "Smoothies make a great addition to the a la carte program for smart snacks," said Greiner. "They can be run through the calculator as a side item, not a beverage."
A favorable reaction from students may come as no surprise since many of them have likely enjoyed the on-trend menu item outside of school. In fact, foodservice smoothies have grown six percent in the past five years with nearly half of consumers recently purchasing a blended fruit beverage at either a fast-food restaurant or smoothie shop1 —a hallmark of their growing popularity.
"Smoothies are versatile, easy to make and a huge crowd pleaser for all grade levels," said Susan Coult, RD, LD, SNS, Quality and Regulatory Manager for K-12, General Mills Convenience & Foodservice. She adds that yogurt smoothies can be an efficient way to help deliver important nutrients students need on a daily basis to grow and thrive, such as calcium, Vitamin D and potassium.

1Mintel Smoothies and Shakes Made to Order July 2012
Yoplait is a registered trademark of YOPLAIT MARQUES (France) used under license.

Yoplait® ParfaitPro® Lowfat Vanilla Yogurt (904760 – 6/64 oz)
• Minimize labor time and product waste when making on-trend yogurt parfaits!
• Easier to handle and dispose of than tubs.
• Make parfaits in half the time.
• Clean up in no time.
• No utensils to wash.
• Easily squeeze out every bit of yogurt.
Directions: Place fruit in large capacity blender or food processor. Blend on high speed 1 minute. Stop blender. Stir with spatula. Continue to blend until smooth. Measure to verify that pureeing has resulted in 8 cups of fruit. Puree additional fruit if necessary. Whisk ingredients together in a large mixing bowl until smooth. Portion into serving cups. Cover. Serve chilled. Tip: Smoothies may be refrigerated overnight.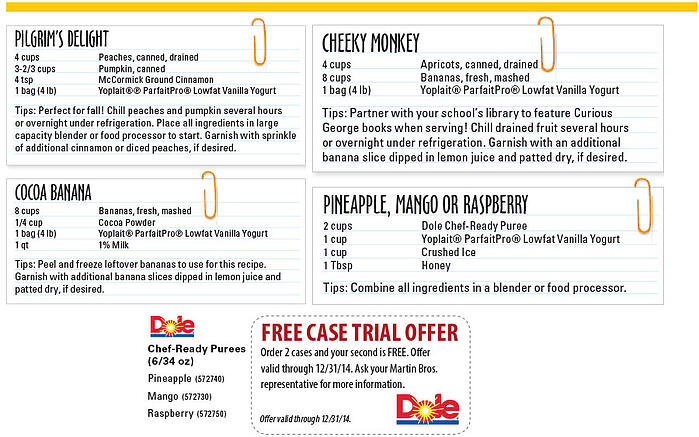 Check out our K12 school recipes page for more smoothie ideas!