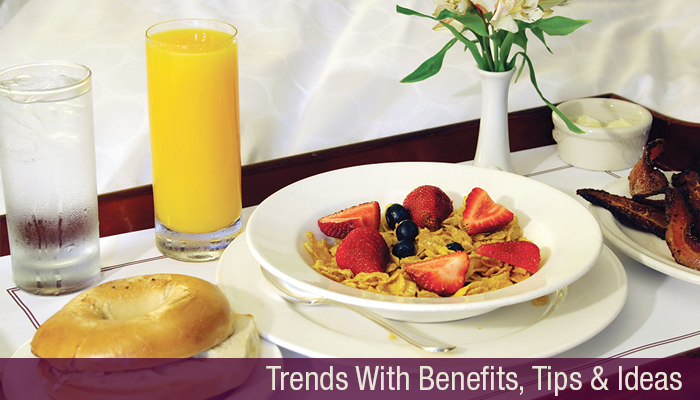 On average, 7,000 Americans are turning 65 per day. As these boomers are aging and entering senior living communities, there is more need than ever to continue to adjust and provide flexibility and options for this segment. Dining is no exception.

1. ROOM SERVICE Hotel-style dining has taken over in many hospitals nationwide and has started to come into the senior living and healthcare community settings, as well. Research has shown that this on-demand style of dining increases customer satisfaction and food quality while decreasing waste and in turn decreasing food costs in many healthcare settings.

Tips
Utilize the Martin Bros. Healthcare Menu Templates available on

www.MartinsMart.com

under tools.

Use room service in place of a current room tray system or for skilled rehabilitiation guests as a second option for flexibility.

offer a static menu of "always available items" or a select menu sililar to other guests' cycle menu.

Start with a select breakfast menu to trial the room service dining style.

Set hours based on staffing and patiend preference.
2. RESTAURANT STYLE
Going out to eat at a restaurant is something that many of us find rewarding.As more Americans are aging and entering senior living communities, dining programs are evolving to reflect customer expectations that are often based on restaurant-style dining. Restaurant-style dining also serves to implement regulations related to person-centered services.
Benefits
Superior food quality

Better customer service

Attractive marketng tool

More variety

Improved quality of life

Great revenue potential (guest and employee meals, brunches/events, catering, meals on wheels, to-go and delivery meals, etc.)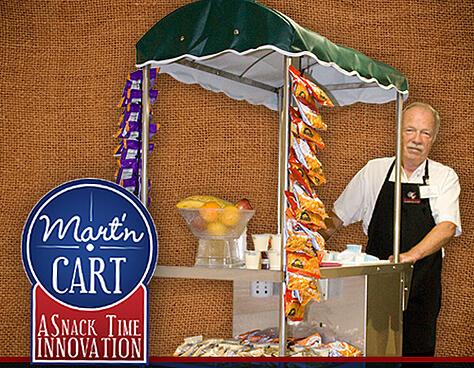 3. ON THE ROAD
Have you thought about taking your foodservice "on the road"?
In our everyday life, most of us spend a great deal of our dining away from our traditional dining table. It may not be a full meal, but we all eat periodically from places other than home. There are party ideas, snacks and meals that can be taken "on the road" in senior living, too, using a mobile delivery system.

Martin Bros. has a "snack cart" with customized decoration packages available for purchase.This snack cart is easily moved about and can be used for a variety of "road dining" concepts. Call Julie Halfpop (515-238-7295) for more information about the Martin Bros. snack cart and/or to arrange a purchase.
Ideas
Breakfast In Bed: assorted breakfast rolls, assorted cheeses, fresh fruit cups, juice, coffee


Hot Dog Cart: grilled hot dogs with all the trimmings, including onion, cheese, relish, mustard and ketchup, individual bags of chips, cups of coleslaw

Baked Potato Bar: baked potatoes with all the trimmings, including butter, shredded cheese, onion, cooked broccoli cuts, bacon, ham, butter and sour cream

Soup & Sandwich Rolling Bistro: prepared deli sandwiches, "soup de jour"

Happy Hour: wine, beer, coffee, cappuccino, hot chocolate, soft drinks, cheese and crackers, olives, pretzels, mixed nuts

Ice Cream Sundae Truck: vanilla ice cream with all the trimmings, including chocolate sauce, strawberry sauce, caramel sauce, nuts, chopped maraschino cherries and marshmallow cream

Theater Popcorn Stand: popcorn, lemonade, soft drinks, theater-style candy…or maybe even sprinkle some chocolate candies into the popcorn for an extra special treat
ON THE ROAD PRODUCT SUGGESTIONS:
Breakfast In Bed
Sara Lee Mini Cinnamon Pull-Apart Bread
1.5 oz (987570 – 4/24 ct)
Hot Dog Cart
Farmland Gold Medal Turkey Hot Dog
8x1 (920290 – 1/10 lb)
Baked Potato Bar
Wholesale Russet Potatoes
(361861 – 1/10 lb)
Soup & Sandwich Rolling Bistro
Heinz Chef Francisco Old Fashioned Chicken Noodle Soup
(943120 – 4/4 lb)
Happy Hour
Diamond Crystal French Vanilla Cappuccino
(702100 – 6/2 lb)
Ice Cream Sundae Truck
Wells' Blue Bunny NUTRIplus Vanilla Ice Cream Cups
(991208 – 48/4 oz)
Theater Popcorn Stand
ConAgra Orville Redenbacher's Microwave Butter Popcorn
(600370 – 36/3.5 oz