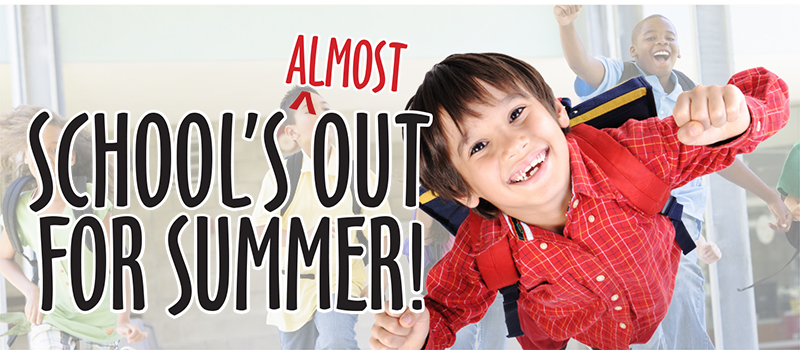 The school year is winding down, so now is a great time to take into consideration a couple of tips and ideas for a smooth transition into summer break and the upcoming 2014-15 school year.
Tips & Ideas
If you participate in Net Off Invoice (NOI), be sure to use up all of your available dollars before summer.
For the 2014-15 school year, all items served to meet grain equivalents will have to be whole grain rich, so serve any of your non-whole grain items before the end of the current school year.
Double-check use by and expiration dates on shelf stable items and serve any items that will not make it through the summer.
Try to keep orders to only menu items needed for service.
Check up on equipment and supplies to see what needs to be serviced, replaced or restocked, including large equipment, small wares and chemicals, to help make for a smooth start to the 2014-15 school year.
7 End of the Year School Menu & Supplies Ideas
| | |
| --- | --- |
| | 1. Use Yoplait ParfaitPro Vanilla Yogurt (904760 – 6/64 oz) as a meat/meat alternate, creating parfaits or a parfait bar and using up your cereal and fruits at the same time. |
| | 2. S.M.A.R.T. 100% Whole Wheat Pressed Flour Tortillas (951880 – 12/12 ct) are so versatile. Kid-friendly options include wraps, burritos and tacos. They can help pull about any meal together quickly because you can put so many different things inside or on top. |
| | 3. Get the kids outside to enjoy the nice weather with a simple sack lunch. Throw in something fun for a grain, such as Keebler Gripz Chocolate Chip Graham Bits (411778 – 150/.9 oz). |
| | 4. Popcorn Chicken is a great, versatile meat option – use in wraps, salads or by themselves. Try Golden Crispy Whole Grain Popcorn Chicken (978230 – 1800/.29 oz). |
| | 5. Sliced Meats such as Lower Sodium Deli Select Thin-Sliced Smoked Ham (932370 – 6/2 lb) can be served hot or cold, and they can even be sliced or diced to use on top of salads or potatoes. |
| | 6. Check your Aluminum Sheet Pans (230135 – 1/18x26x1; 230125 – 1/12x18x1; 230120 – 1/9.5x13x1) to see if any need replaced. |
| | 7. Check your Heavy Weight 6-Compartment Trays (Sandshade – 211460 – 12/each; Variegated – 211500 – 12/each) to see if any need replaced. |