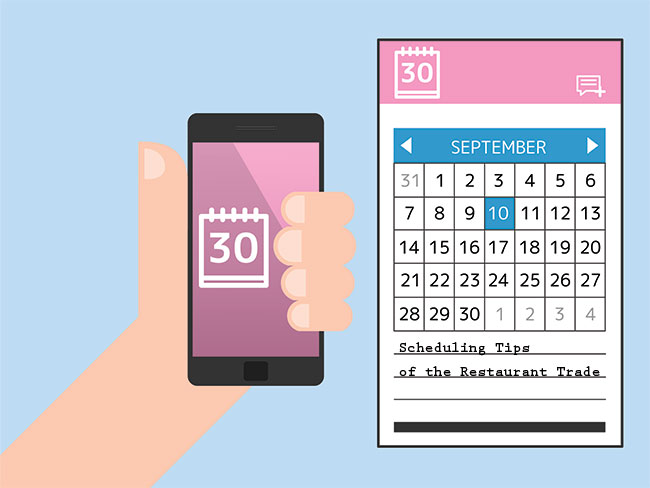 Does your restaurant have an un-explainable high turnover rate for employees? It's hard to run a business while making everyone happy, but it's not impossible. Things happen; that's life. Whether it's a grouchy customer, an un-motivated employee or an overly busy lunch hour, life can get hectic.
One thing that can really push your employees away is uncertainty. Uncertainty about their schedules and when they need to work can get frustrating. They can't make plans or appointments, and when you, as the manager, show you don't respect your employees' schedules outside of work, they will probably stop respecting you. Here are a couple scheduling tips you can do to help yourself and your employees…and thus help your overall business.
1) Give Plenty of Time-Giving your employees at least a week's notice, if not more, is crucial. Letting them know ahead of time when they will be needed at work will allow them time to schedule other obligations and social time.
2) Keep it Mobile-Being able to access their schedules anywhere will discredit the "I didn't know" excuse. Put the schedule online and make it mobile friendly for your employees to check their shifts anytime, anywhere.
3) Readable Scheduling Tools-Use templates and keep the format the same from week to week to make schedules easier to read and quicker to create. Try color-coding each row/shifts/time slots for a better detection of overlapping work shifts, under scheduling, employees reaching overtime hours, etc.
4) Employee Participation-Within the online-accessible schedule, allow employees to request time off for you to approve or disapprove. Also, try a chat function for employees to exchange shifts, discuss who is working, etc.
Source: http://www.qsrweb.com/blogs/people-dont-just-leave-bad-managersthey-also-leave-bad-schedules/