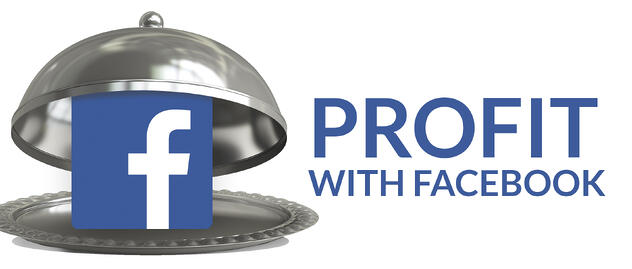 Deep within the annals of Internets lurks the slow creep of social media. The methodically loud beeping of the modem morphed into chat rooms, which morphed into MySpace and has now comfortably settled into Facebook. For now anyway.
Here is some Facebook food for thought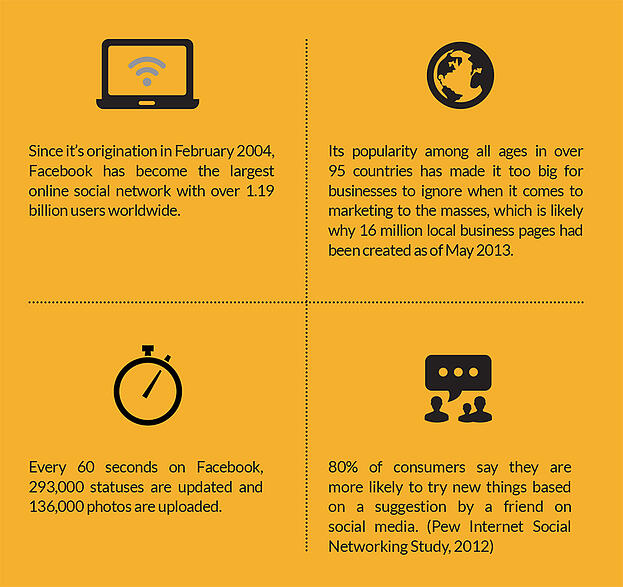 Now, these stats do not necessarily mean that Facebook is here to stay. In fact, there are gobs of social media sites on the web. However, no other sites have garnered more attention and traffic than Facebook.
So, isn't now a great time to add Facebook to your menu and make it a feature item? Start using it to gain customers, keep them coming back and add more profits to your bottom line!
Here are a few easy steps to get you started and successful;
1. Create your Business Facebook Page. Seems simple enough, right? But where do you start? Begin by creating a personal profile page. Once that is done, you can move onto your official business page. Use a compelling photo for your cover photo and your logo for your profile picture. Your basic information would include your hours, location, phone number, website, etc. Use the about section to tell your followers what makes you great.
2. Secure it. Once your official business page is set up, you'll want to establish Admins and security settings. Admins will have permission to post/edit content on your behalf. You may need more than one Admin in order to stay on top of the daily activity.
3. Add your menu. One of the first things you need to add to your Facebook page is your menu. You'll need a special application to do so, but it is VITAL to attract customers to your page.
When you have steps 1-3 completed, you are ready to welcome your fans with your first official "post". Don't worry about lighting the world on fire with it. Just get the ball rolling. Fire and world dominance will come later.
4. Learn the lingo. Nothing is more embarrassing than sharing instead of liking or posting on a wall when you meant to be creeping. Are you with me? No? Well, there are fans, status updates, posts, offers, events, likes, shares, comments, etc., etc. Phew! All of these things do something a little different, and they are all important to your business on Facebook. You'll want to familiarize yourself with the workings so you can properly market your business and mesh with your followers.
5. Content is KING! Remember that gosh darn 80/20 rule you learned in Econ 101? Well, it's back! Facebook is about social interaction, not necessarily about sales. So, make sure the majority of your content is social. You should be primarily interacting and engaging with your consumers. Ask them questions. Solicit feedback on your menu or on a photo of a new dish. Share industry information and dining trends.
Know that videos and photos enhance Search Engine Optimization (SEO). Engine optima-what, you ask? Basically, SEO is fancy talk for getting your business to pop up higher and more often when people use a search engine. Ya know, like when people go Google-ing.
And don't forget to respond to comments, both good and bad. Be transparent. Don't delete a comment because your feelings were hurt or because it is simply not true. Keep calm and respond on!
6. Post regularly. Set up a posting schedule if it will help. You can preschedule posts and set a time for them to go live. Consistent content is the key to keeping people engaged. (In fact, I'm pretty sure that it is what makes a Facebook Jedi Master.)
7. See what your competitors are posting. You know that saying, "Keep your friends close and your enemies closer?" Yep. That applies here. Check them out. See what they are doing to market to your current and potential customers.
8. Promote, promote and promote some more. (Did I mention promote?) Take advantage of the marketing materials that you are already using. Add your Facebook address or logo to your table tents. Add your feed to your website. It is important to cross-promote every which way that a customer is able to learn more about you. Linking all of your social media, website and printed materials together is a great way to add value and further establish your brand.
Download Martin Bros.' complete e-book guide
to utilizing these eight steps to make your
business

successful on Facebook.

Click here>>