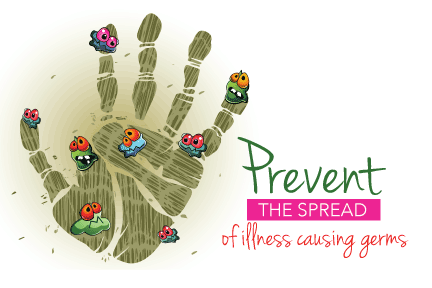 It's the time of year when illnesses that are more prevalent in the fall and winter, such as the flu, come to a peak. Therefore, to help keep your employees and customers healthy, it's important to make sure you're following the proper infection prevention cleaning procedures.
Make sure you're cleaning both hard and soft surfaces. Hard surfaces such as light switches, door handles, railings, chairs, tables and faucets are prime areas for germs to hide. In addition, microorganisms can live on soft surfaces, too. Therefore, adding a routine to address soft surfaces such as couches, cushions and mouse pads may also help reduce the transmission of infections.
For hard surfaces:
1. Clean off any excess dirt.
2. Thoroughly wet surface by using a disinfecting wipe or disinfecting solution in a spray bottle.
3. Allow disinfectant to contact surface for minimum contact time.
(Read label for proper contact time.)
4. Rinse if necessary.
For soft surfaces, routinely launder curtains, linens, employee uniforms and other soft surfaces in your facility. In addition, use an EPA-registered product to kill bacteria on soft surfaces between launderings and on soft surfaces that cannot be laundered.
Here are some disinfectants available along with some of their kill claims and contact times required: