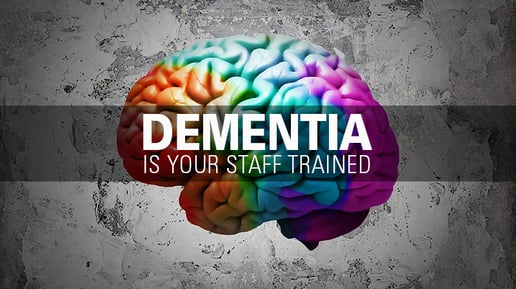 The new Requirements of Participation that the Centers for Medicare and Medicaid Services released in the fall of 2016 are forcing changes on the healthcare industry, specifically with dementia residents.
While delivering quality of care is a goal that everyone strives to accomplish, some of the regulations will force care providers to prove they are putting residents first. A brand new section added to these regulations is the requirement to provide necessary "Behavioral Health" and communities will need to be ready by November of 2017 for this Phase 2 implementation. This regulation states:

This regulation includes implementing non-pharmacological interventions and giving the appropriate treatment for any resident who "displays" or is diagnosed with dementia. How can you help your staff become detectives who can accurately diagnose behaviors, determine appropriate treatment, and identify alternatives to drugs as a means to deal with dementia residents? TRAINING!
Building a caregiver's skills not only gives them confidence, it also helps with the quality of life you are providing for your dementia residents. Some specific areas of focus include:
- Communication
- Approach techniques
- Interactions that are person-centered
- Activities that have meaning
- The "WHY" behind the behavior
The more you can aid your staff in understanding the behavior they are dealing with and equip them with techniques that are proven and work, the more success you will have achieving your goal of delivering quality care. Our residents deserve to have the most meaningful lives they can in every stage of this disease. Time invested in training your staff will benefit your community, your staff, and most importantly, the resident.