New research from the National Restaurant Association (NRA) shows that more than one-quarter of American adults will celebrate Mother's Day by dining out, and nearly one in 10 will rely on restaurant takeout or delivery for their special Mother's Day meal. Is your foodservice operation positioned to capitalize on a holiday with that many families planning to dine out? We've included some ideas here to help get you ready.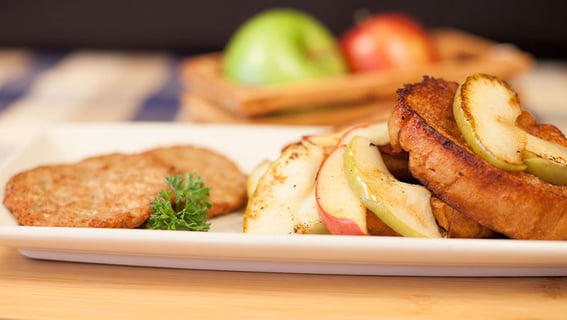 APPLE FRENCH TOAST
Servings: 4
3/4 cup Knouse Musselman's® Apple Butter (750160)
1-3/4 cup Kemps Milk
2 tsp Vanilla
2 tsp McCormick Ground Cinnamon (472248; 472251)
12 slices Rotella's Sliced French Bread (986500)
1 each Red Delicious Apple, small sliced
1 each Granny Smith Apple, small sliced
1. Mix apple butter, milk, vanilla and cinnamon together.
2. Dip each bread slice into the mixture.
3. Grill French toast until golden brown.
4. Grill sliced apples until light brown.
5. Plate French toast with grilled apples and serve with two 2 oz Jimmy Dean Mild
Sausage Patties – Fully Cooked (914418) and Pinnacle Log Cabin Maple Syrup (770500).
COST:$1.76 | SELL AT: $5.99 | POTENTIAL PROFIT: $4.23
---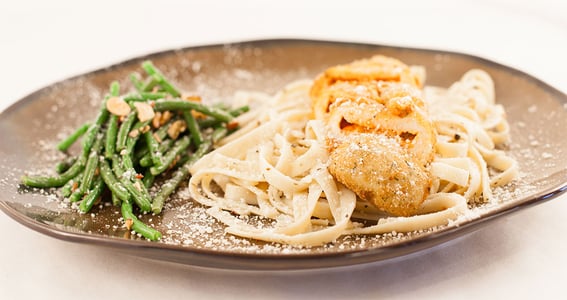 CHICKEN PARMESAN WITH GREEN BEAN ALMONDINE
CHICKEN PARMESAN
1 each AdvancePierre Barber Foods® Home Style Stuffed Chicken Parmesan (976890), prepared
1 cup AIPC R&F® Fettuccine (480640), prepared
1-1/2 Tbsp Roland Pomace Olive Oil (620390)
As needed McCormick Lawry's® Roasted Garlic & Red Bell Pepper (473241)
1 Tbsp Grated Parmesan Cheese
1. Toss warm fettuccine with olive oil and seasoning.
2. Slice and serve chicken overtop.
3. Sprinkle with parmesan cheese.
GREEN BEAN ALMONDINE
4 oz Norpac Flav-R-Pac® Petite Whole Green Beans (346318)
1/2 oz Azar Natural Sliced Almonds (462370)
As needed Roland Pomace Olive Oil (620390)
As needed McCormick Grill Mates® Vegetable Seasoning (470201)
COST:$2.63 | SELL AT: $9.99 | POTENTIAL PROFIT: $7.36
---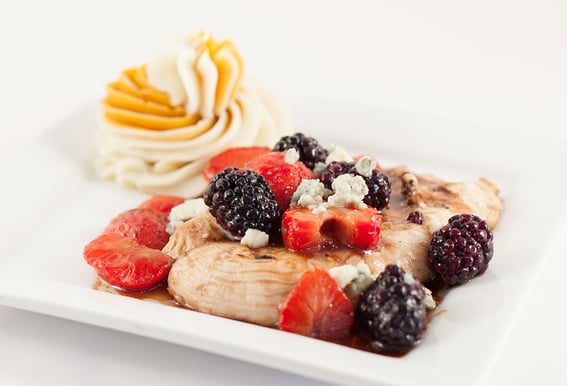 BALSAMIC CHICKEN, BLUE CHEESE & BERRIES
WITH MASHED POTATO TWIST
BALSAMIC CHICKEN, BLUE CHEESE & BERRIES
1 each Wayne Farms Platinum Harvest™ Boneless Skinless Marinated Chicken Breast – 6 oz (977420)
1/2 cup Ventura Balsamic Vinaigrette (630628; 630620)
2 Tbsp Brown Sugar
1/4 cup Wholesale Strawberries (377618), hulled, sliced
1/4 cup Wholesale Blackberries (377240)
1 oz Blue Cheese (903758; 903870)
MASHED POTATO TWIST
3 oz Basic American Potato Pearls® Excel® Sweet Potato Mashed (603180)
3 oz Basic American Potato Pearls® Excel® Original Recipe Mashed Potatoes (602590)
1. Prepare both mashed potatoes according to manufacturer directions.
2. In a piping bag, fill one side/half with prepared sweet potato mashed and other side/half with prepared
original recipe mashed potatoes.
3. Pipe onto the plate.
COST:$2.89 | SELL AT: $8.99 | POTENTIAL PROFIT: $6.51