The holiday season means tradition, family, special foods, holiday sights and sounds and cherished memories for many of us, including the seniors we care for. At the essence of many holiday customs are food, family and friends.
As we approach this festive time of year, it is imperative that we be mindful about how the challenges of 2020 have affected the well-being of our seniors and how these changing times may impact their engagement over the holiday season.
While the pandemic has brought unique new hurdles for all of us, elders living in senior living communities have been disproportionately impacted by high rates of isolation, depression and weight loss.
The discontinuation of both communal dining and visitation from family and friends for much of this year has left many of the seniors in our care lonely and less interested in eating. Breaking bread with others is a human custom that is deeply social and nourishes not only our body but also our souls. Many of our seniors have profoundly missed that human interaction that comes with dining in "normal" times.
So, this holiday season perhaps more than ever, providing special touches through your dining programs will be extra impactful to the people you serve.
Try some of these ideas to elevate the holiday experience provided through your dining program:
If your community is feeding residents in the dining room, give every resident the opportunity to eat their festive meals with others. Encourage those that have been eating in their rooms to get out with others if able.
Ask each resident what foods they cooked for the holiday in years past and include as many of those foods into the menu as possible throughout the season.
Play holiday music in the dining room or hallways.
Host a resident carol sing-along in the hallway with appropriate social distancing.
Use holiday-themed menu templates to make decorative printed menus and meal signage.
Collect favorite cookie recipes from residents and staff and prepare them. Offer cookies and coffee, cocoa and/or eggnog.
Although we need to keep centerpieces off the tabletops for infection control, place special care on decorating the dining room and community with the sights and colors of the season as much as possible. Use holiday-themed placemats, table linens, etc. to add color and warmth.
Prep your staff that are delivering meals to rooms with questions they can ask to engage a resident in holiday conversation. Make sure your staff understand that intentional conversation is essential. Have staff take those moments each day when delivering food to focus time and attention on the residents.
Offer holiday beverages on the hydration cart, such as punch, eggnog, cider, hot cocoa and flavored syrups and creamers for coffee. Include garnish options like finely-crushed candy canes, chopped Andes mints, whipped topping or cinnamon when appropriate.
Provide holiday-themed spirit lifters with room-delivered meals. Added touches such as holiday word searches, games, notes of encouragement or simple ornaments residents can make can help make the holiday season special.
Invite residents to make garland with cranberries and popcorn to decorate the community or their room if they are able, or encourage them to help decorate a tree for the community or their own tree for their room.
Plan a day where you prepare two fancy holiday menus with high-end items like steak and shrimp. Residents can pick which meal they receive.
Offer a carving station in the dining room that features your chef carving turkey, roast beef or ham.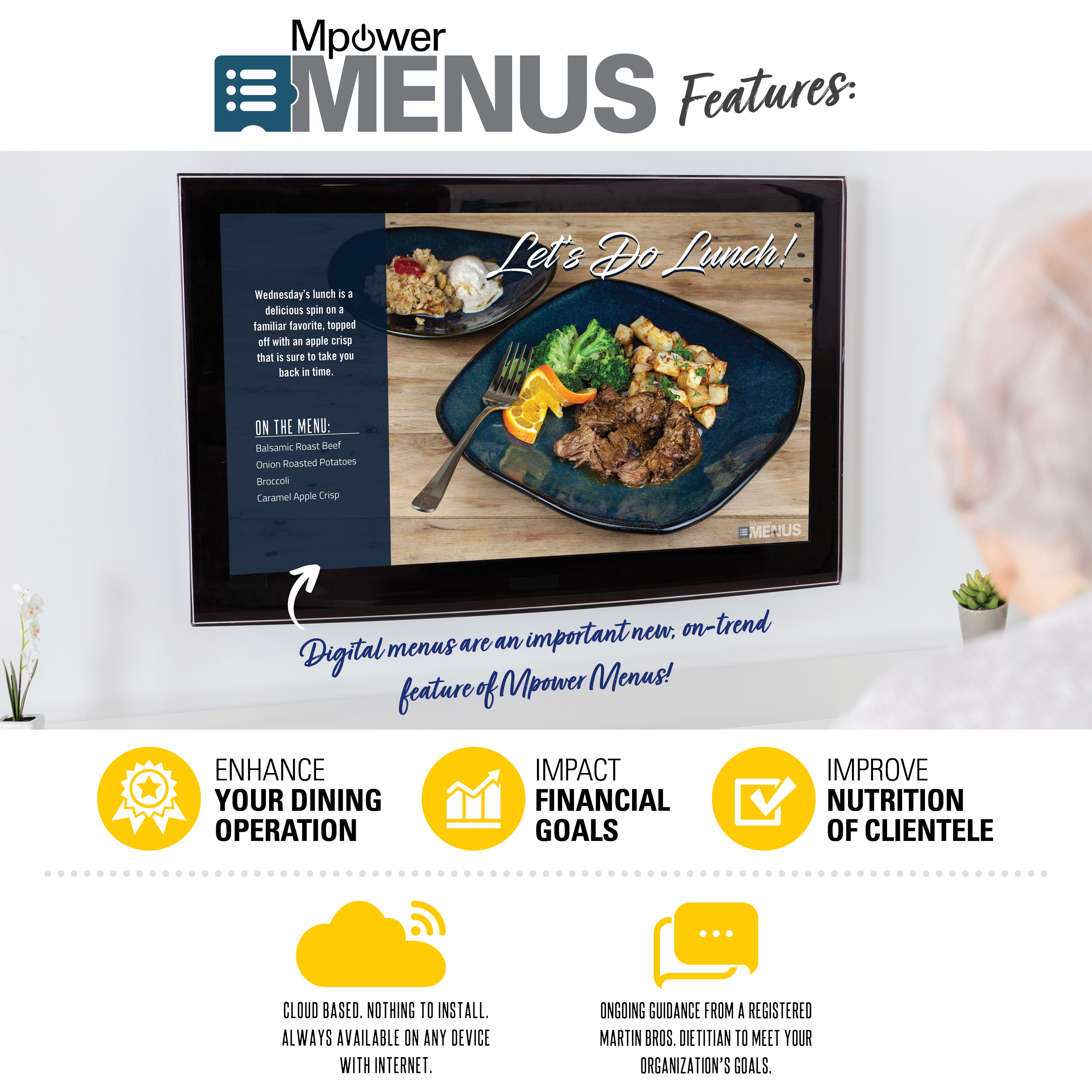 Click here for more information about Mpower Menus from Martin Bros.!