The importance of breakfast continues to gain momentum. Consumers and businesses alike recognize this fact. According to Technomic, "63 percent of consumers feel it is unhealthy to skip breakfast," and "major foodservice brands have been looking for ways to capitalize on breakfast" and "get customers in the door in the morning."1
Our fast-paced lifestyle doesn't mean there is always time to sit down for a big, traditional breakfast. That's why the convenience industry is well positioned to be a top player in the fast-paced morning lifestyle. Moderate to good inside foot traffic locations can realize margins of 50% and better on such inside fare as bakery items and breakfast sandwiches, pizzas, burritos and more. But, is your store well positioned to be one of those players?
There are three keys to gaining meaningful
profit during the breakfast daypart.
1

First and foremost is getting foot traffic. You can't feed
people you don't have coming through the door. Think
outdoor signage such as track lettering, pump toppers,
banners and window clings.

2

Another key is good in-store imaging to lead consumers to the breakfast products they need and want. Fresh-made products (check out our c-store recipes for ideas) will outsell generic-looking, pre-wrapped options in most situations...but only if prepared well, priced competitively and sharply packaged. Display them in a warmer near the checkout area, and you should realize good success and profit!

3

Finally, coffee is a morning staple in the lives of many American consumers...and so it should be an important part of your morning offerings. According to Technomic, "64 percent of consumers drink coffee at breakfast" 1 And so, a nicely-imaged and stocked coffee sales area can create big profits. In addition, bundling coffee with a hot breakfast item or donut for a set price ensures a higher ring and profit margin.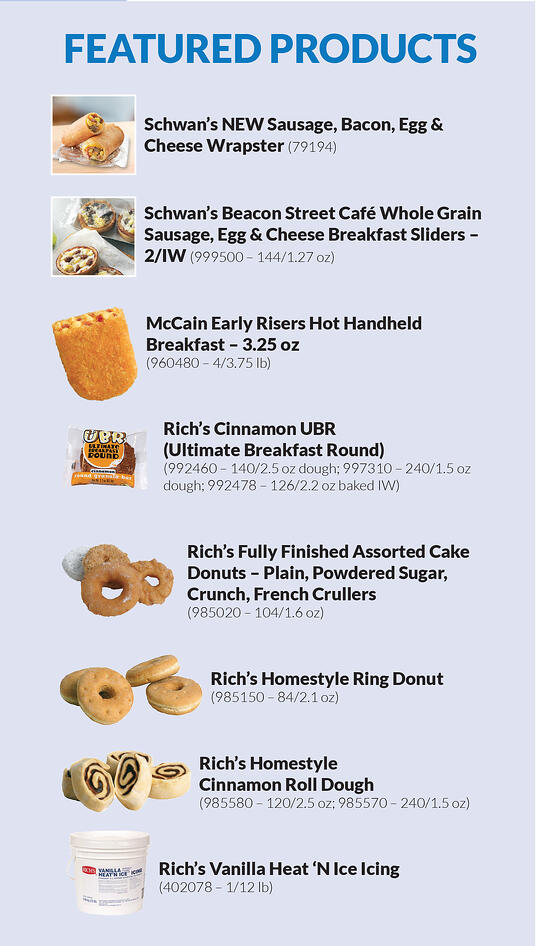 1 Technomic. (2014). Technomic's Breakfast Report Highlights
Opportunities to Drive Traffic [Press Release]. Retrieved from
https://www.technomic.com/Pressroom/Releases/dynRelease_Detail.php?rUID=269.