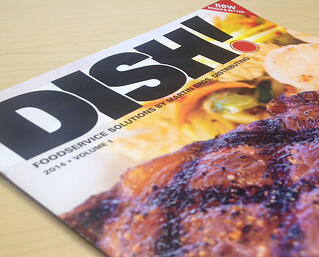 Well, it's 2014...have you tidied up your resolutions? If you're like me, next year's goals probably include some sort of weight loss plan, more efficiency at work and a dedication to trying new things. The point is, it's a new year and a great time to reset those goals, and I'm excited to say that Martin Bros. Distributing is jumping on the New Year's bandwagon with a resolution to help you achieve those goals in 2014!
We're proud to be rolling out Dish! Foodservice Solutions by Martin Bros., our new blog and monthly publication. Each post will be filled with tips, trends and products to make your restaurant, healthcare facility, kitchen or convenience store more efficient and profitable in the coming year. You'll learn from our experts in the business who each possess many years of experience in foodservice, healthcare, medical supplies, restaurant supply, janitorial supply, large kitchen equipment, restaurant marketing and more! All of the data and stories will be driven by combining our branded vendor partnerships and our dedication to providing legendary customer service.
I encourage you to subscribe to the Dish! blog to stay current with the most up-to-date solutions for your business. Get to know our staff of experts who are here to help make a difference in your day-to-day processes, procedures AND profitability.
Bring it on, 2014!