Everyone has their own way of cooking corned beef. The best results I've seen – with great flavor, nice look and less shrink – have been with roasting/steaming.
Most full briskets can be 12-16 pounds (+ or -). I would normally start by searing a brisket on a flat top over medium-high heat, but due to size, this sometimes is not possible for all kitchens. So, we will cover this step a little different in these instructions.
INSTRUCTIONS:
Thaw corned beef.
Preheat oven to 450°F.
In the bottom of a full size 4 inch hotel pan, place a baking screen.
Remove packaging from corned beef. Make sure to drain well. Place corned beef onto the screen. If you wish to add any of your own seasonings, this is the time to do it. Some briskets will come with a seasoning pack or have the seasoning in with the brisket. If you decide to add your own seasonings, remember that corned beef is brined with salt and may get a little too salty if you use seasonings with higher sodium.
Place corned beef into preheated oven. Roast for 15-20 minutes. The brisket will start to turn color. Remove from oven. Add water to the bottom of the pan. (Use approximately 1 inch of water. The water should come up to the screen.)
Reduce oven to 275°F.
Cover pan tightly with foil. Do not let the foil rest on the corned beef. Make a little tent.
Place corned beef back into the oven. Continue to roast until tender. Time will vary. Allow at least 40-45 minutes per pound, but it could take an hour or more per pound. All ovens will vary. Cook until internal temperature is 180-185°F.
Remove corned beef from oven. Open the foil. Let rest for at least 20 minutes before slicing.
When slicing the corned beef, always slice against the grain. A brisket is made up of the flat and point. The grains will change. You can separate the point from the flat. This will help to keep the grain in the correct direction. The point will be at the thicker end and is divided with a thick piece of fat. This is where you would separate the two.
TIPS:
Many people will trim the fat before cooking. If there is a lot of fat, I would take some off. However, don't take too much off. I trim more off after cooking and resting.
Low and slow cooking – low temperature for a longer time – is the key to cooking corned beef.
Make sure corned beef rests for a minimum of 20 minutes before slicing. If you are serving it on an as needed basis, you can wrap and cool and then cut and lightly heat as needed. (But be careful. Overcooking sliced corned beef will dry it out and make it tough. And always keep it tightly wrapped when you're not using it.)
RECIPE IDEAS:
Click on the recipe names below to view recipes!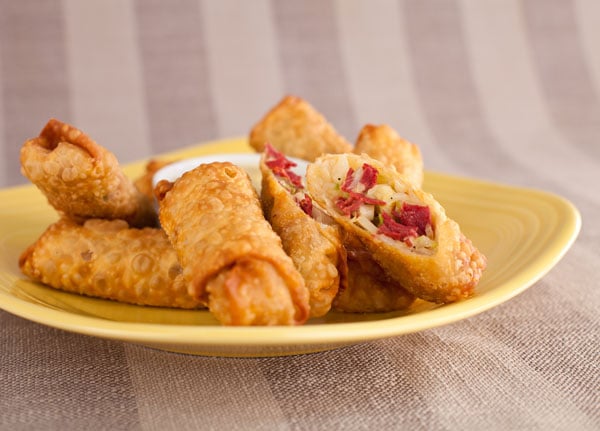 Irish Egg Rolls with Mustard Mayo