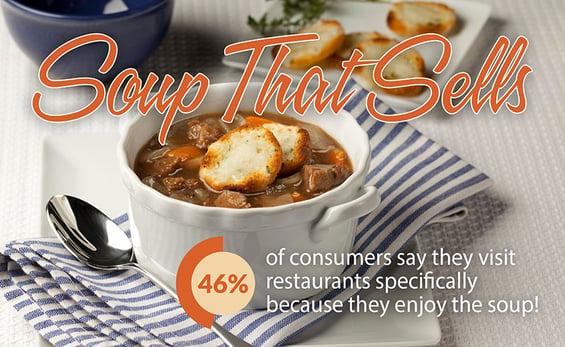 Forty-six percent of consumers say they visit certain restaurants specifically because they enjoy the soup1, so featuring the right soup varieties for your operation can help to boost sales.
Whether providing an indulgent comfort, a healthier side option or a low-risk way to try a new ethnic flavor, soup appeals to customers for a wide variety of reasons. And with soups that satisfy these needs, you can drive traffic and build your business on multiple levels.
Several fast casual chains have made soup a major component of their menus using two of the most powerful soup sales strategies: bread bowls and combo meals.
Serving soup in a bread bowl adds eye-appeal and perceived value. Combo meals, regardless of restaurant type, may result in per-person check sizes that are $1.00 to $1.50 greater than checks for all other meals combined.3
Switching to frozen soup can help to increase profits even more. In terms of profit, a typical broccoli cheddar soup made from scratch can garner only about 15 cents per ounce, but frozen can yield up to 21 cents for the same quantity.2
With soup orders increasing nationwide4, there's never been a better time to maximize your profits.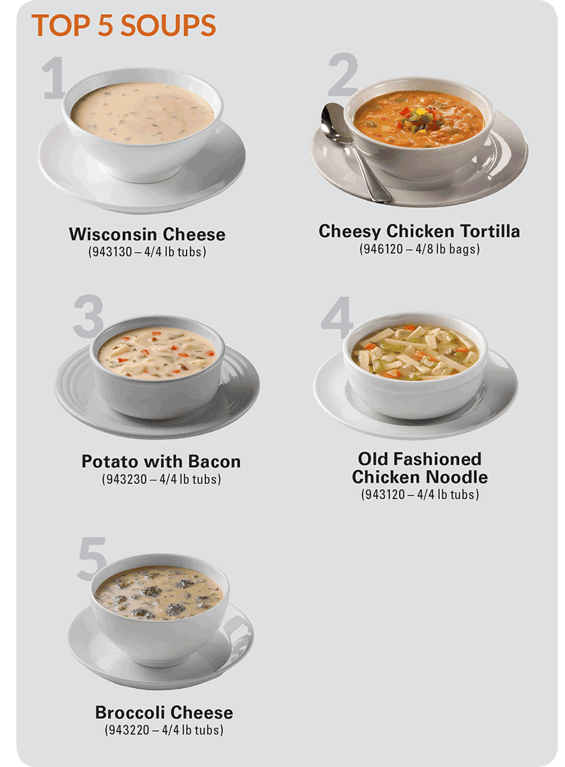 SOUP TUBS VS. BAGS
TUBS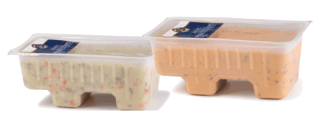 The interlocking plastic design of tubs is ideal for operations with limited freezer space, because these tubs easily stack on freezer shelves. Chef Francisco® tubs also allow 100% evacuation of the product and serve as measuring vessels for any added liquid in reconstituted varieties. Heinz offers a variety of tub products that are easy-to-prepare and can be quickly customized with your own ingredients to create a signature soup.
BAGS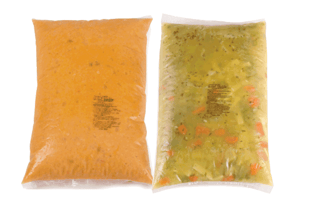 Requiring no skilled labor, bag products can be heated from frozen or thawed right in the bag, so from batch to batch and day to day you can be assured of the same quality and taste.
1 Technomic, Left Side of the Menu: Soup & Salad Consumer Trend Report, 2014
2 Soup Profitability Calculator.
3 The NPD Group/CREST® Foodservice Brief, February 2012
4 Technomic, Inc., The Future of FSR, Family-Styles Restaurant Consumer Trend Report, 2013