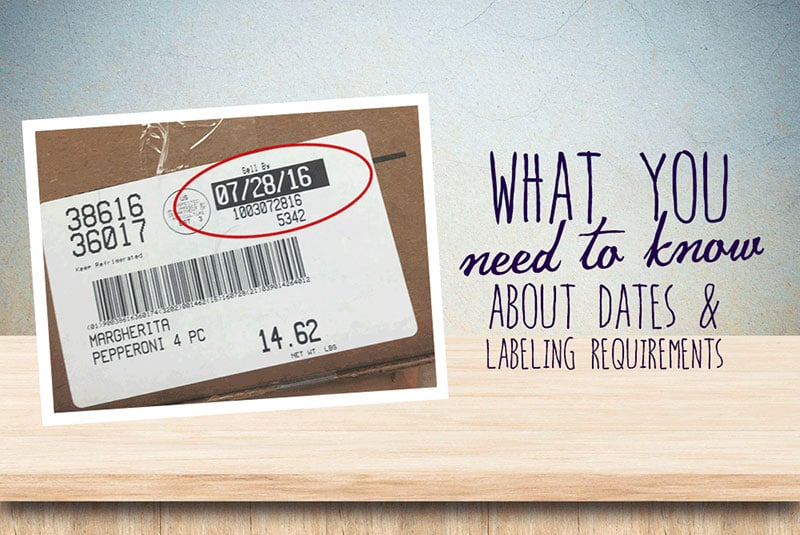 "Sell-By", "Best If Used By", "Use-By" – OH MY!
Do these terms ever get you confused? The dietitians at Martin Bros. often receive requests
for clarification of these dates and labeling requirements. Here is what you need to know:
Food Product Dating
The dates stamped on a product's package by the manufacturer are to help the store decide how long to display the product for sale and limit the time of sale during the product's best quality. These dates are not safety dates and are not required.
"Sell-By" Dates
tell the store how long to display products for sale.
"Best If Used By (or Before)" Dates
are recommended for best flavor or quality.
"Use-By" Dates
are the last dates recommended for the use of products while at peak quality.
Date Marking
The terms mentioned above are different from the date marking requirement mentioned in the 2013 FDA Model Food Code. The food code requires ready-to-eat, time- and temperature-controlled for safety foods (TCS, formerly titled Potentially Hazardous Foods) that are opened or made in a facility be date marked if they are going to be held for more than 24 hours. These foods can then be kept for up to seven days.
Refrigeration slows the growth of pathogens (disease-causing microorganisms), but it does not stop it. Since the growth continues even under refrigeration, you need to discard items after seven days after opening or the product's use-by date, whichever comes sooner.
Many items are tossed into the freezer to keep for a later date. This method stops the date marking clock, but it doesn't reset it. Let's say the use-by date on some ground beef is four days away, so you freeze it until you need to use it. Once thawed, you still only have four days left to use the product. This needs to be recorded, otherwise it may come into question when a surveyor sees an expired date.
Each facility may have their own method of date marking, but it needs to be written down in the form of a policy. The method needs to be easy to understand for the staff and communicated correctly to a surveyor when questioned. The most common method counts the day a food is prepared or opened as day one and discards six days later. For example, food prepared on January 1 must be discarded on January 7 at the latest.
Sources:
http://www.fsis.usda.gov/wps/portal/fsis/topics/food-safety-education/get-answers/food-safety-fact-sheets/food-labeling/food-product-dating/food-product-dating
http://www.fsis.usda/gov