It's the holiday season – a busy time of year for everyone! This time of year all food service establishments are busy planning special menus to increase business at the end of the year while preparing for ways to bring in business in the coming year. Our culinary team has put together some terrific comfort foods that would be a perfect compliment to almost any menu. If nothing else, they may spark some additional great ideas for you and your operation. Enjoy!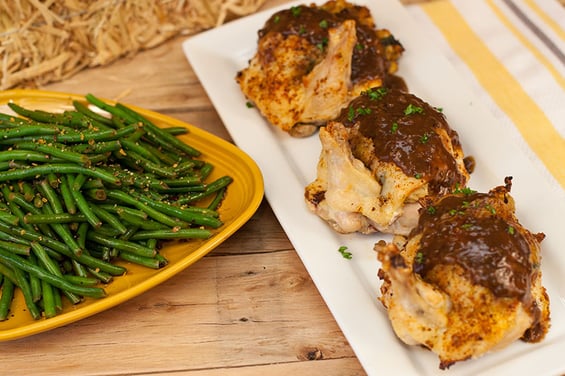 STUFFED AIRLINE CHICKEN BREAST WITH WILD MUSHROOM SAUCE & ROASTED BALSAMIC GREEN BEANS
4 each Tyson Airline Chicken Breast Halves (977580), thawed
Stuffing
YIELD | 36
48 oz Kraft Heinz Stove Top Chicken Flavored Stuffing Mix (417050),prepared
16 oz Monterey Medium White Mushrooms (360930), coarsely chopped
1-1/2 cups Wholesale Celery (360445), small diced
1 cup Capital City Jumbo Yellow Onion (361045), small diced
As needed Roland Pomace Olive Oil (620390)
Wild Mushroom Sauce
YIELD | 24
1 lb Custom Culinary Gold Label Wild Mushroom Tapenade (953880)=
1 pint Custom Culinary PanRoast® Brown Gravy Mix (504010), prepared
Roasted Balsamic Green Beans
YIELD | 24
1 lb Norpac Flav-R-Pac® Premium Extra Fine Green Beans (961740)
2 Tbsp Roland Balsamic Vinegar (422110)
1 Tbsp McCormick Lawry's® Roasted Garlic & Red Bell Pepper Seasoning (473241)
PREP
1. For Stuffing: Sauté mushrooms, celery and onion with olive oil until tender; add to stuffing.
2. Stuff chicken. Prop drumsticks up. Lightly brush oil on top and season with salt and pepper, if desired. (Do not over season, because the stuffing and sauce will add to the flavor.)
3. Bake chicken at 375°F until internal temperature reaches 165°F, approximately 45 minutes.
4. For Wild Mushroom Sauce: Mix tapenade and gravy together; heat.
5. Top baked chicken with heated mushroom sauce.
6. For Roasted Balsamic Green Beans: Toss green beans with vinegar and seasoning. Pour onto baking pan. Roast at 375°F until green beans are heated through.
7. Serve with choice of soup or salad.
COST: $4.27 | SELL AT: $12.99 | POTENTIAL PROFIT: $8.72
HOLIDAY FAVORITE: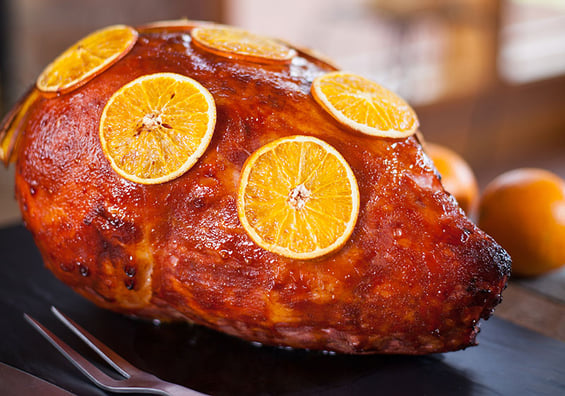 ORANGE GLAZED HAM
1 each Hillshire Farm Black Oak™ Pit Ham (915110)
12 oz Nestle Minor's® Zesty Orange Sauce (551810)
2 each Wholesale Oranges (376541), sliced
PREP
1. Lightly glaze ham with sauce. Place orange slices on ham. (You can use toothpicks to keep them in place then remove the toothpicks before displaying.)
2. Roast ham at 325-350°F, glazing with more sauce every 20 minutes until internal temperature reaches 145°F. Do not overcook.
3. Serve with extra sauce.
4. Great served with Lamb Weston Sweet Things® Original Mashed Sweet Potatoes (965190) and General Mills Pillsbury® Easy Split® Baked Golden Buttermilk Biscuit (981020).
5. Great for buffets or to-go meals!
PERFECT FOR NEW YEAR'S: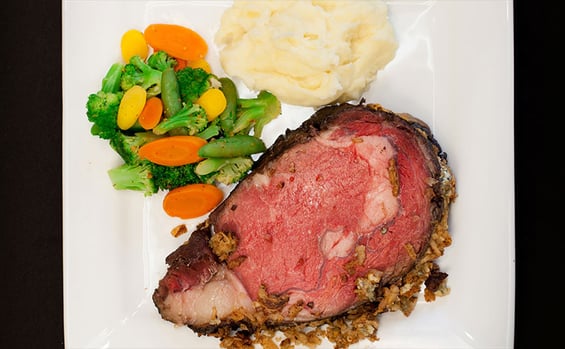 BLUE CHEESE CRUSTED PRIME RIB
1 each Hillshire Farm Choice Rare Beef Prime Rib (910600)
4 oz Kraft Heinz Grey Poupon Dijon Mustard (560170)
8 oz Sugar Foods Fresh Gourmet® Crispy Onions (603290)
8 oz Blue Cheese Crumbles (903758)
1 Tbsp Wholesale Minced Garlic (391020)
PREP
1. In a bowl, crush crispy onions. Add blue cheese crumbles and minced garlic.
2. Coat prime rib with mustard. Pat on blue cheese mixture.
3. Roast at 325°F until internal temperature reaches 125-130°F. Let rest for 15 minutes.
4. Serve with Norpac Flav-R-Pac® Grande Classics® Pacific Blend Vegetables (962700), Basic American Brilliant Beginnings® Mashed Potatoes (603010), loaded Norpac Soup Supreme® French Onion Soup (946590) and bread.
COST: $10.35 | SELL AT: $28.99 | POTENTIAL PROFIT: $18.63
DESSERTS: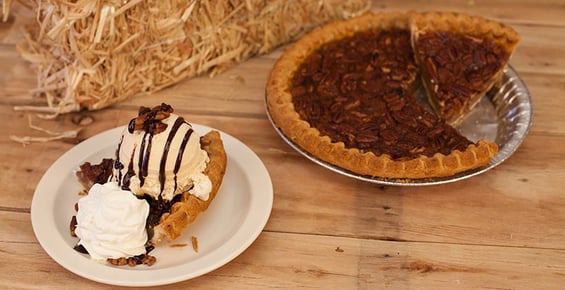 LOADED PECAN PIE WITH CINNAMON ICE CREAM
Southern Pecan Pre-Baked Pie (981100 )
Cinnamon Ice Cream (990350)
Whipped Topping (988060)
Pecan Pieces (344568)
Designer Dessert Sauce™ Chocolate (771370)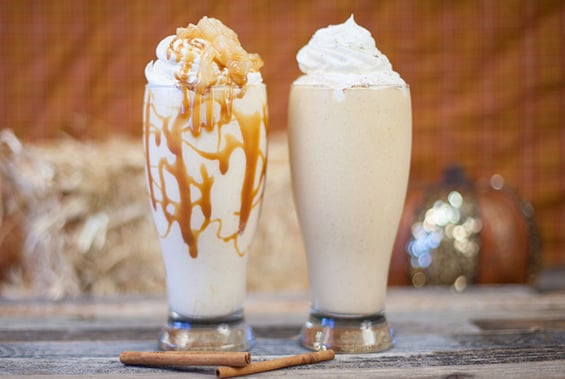 CARAMEL APPLE SHAKE
12 oz Blue Bunny Cinnamon Ice Cream (990350)
1/2 cup Lawrence EZ Squeeze® Apple Filling (754030)
1 oz Lyons Sea Salt Caramel Sauce (771480)
1-3 oz Anchor Chef's Heavy Cream (929770)
As needed Rich's On Top® Whipped Topping (988060)
PREP
In a mixer, combine ice cream, apple filling, caramel sauce and 1 oz cream. Blend until smooth and adjust thickness with more cream as needed. To serve: Drizzle additional caramel sauce around inside of glass, if desired. Pour shake into glass. Top with whipped topping…and drizzle with additional caramel sauce and an additional dollop of apple filling, if desired.