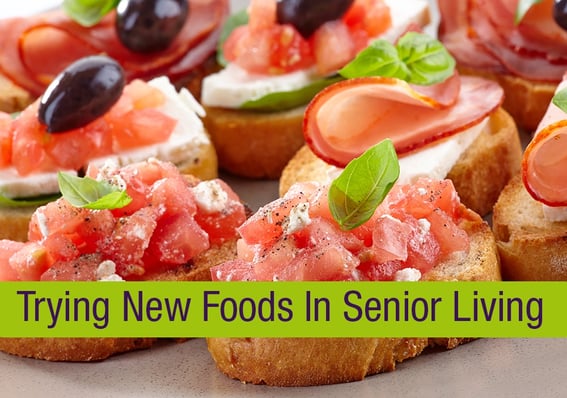 It's about time to change over to fall/winter menus, and sometimes we get stuck in a rut. How many different ways can you serve "meat and potatoes"? Offering a new variety of foods is a good way to improve the nutritional status of your guests, provide a fun environment to live and work and take advantage of cost-effective healthcare recipes when available.
Trying new foods makes me think of an ice cream shop. If it weren't for the tasting spoons that allow me to satisfy my curiosity before committing to a whole dish of a new ice cream, I'd still find myself settling with vanilla every time.
HERE ARE 8 TIPS TO HELP YOU ENCOURAGE
YOUR RESIDENTS TO TRY NEW FOODS:
1. Have a new recipe sampling event or mini food show where you let your guests sample new items. Instead of serving full portions, serve small, bite-size portions.
2. Schedule your sampling event during your guests' hungriest time of day and not on the same day as an outing. Food just tastes better when you're hungry, and tasting is a great activity in itself!
3. If you create your own menus, pair new recipes with good ole' favorites. This helps reassure that if your guest doesn't like one item, the whole meal isn't a bust.
4. Remember that people listen not only to what you say but also to how you say it. It's important to disguise your personal preferences so you don't negatively impact their decisions.
5. Be able to describe new recipes. Describe their tastes and textures so your guests know what to expect.
6. For guests who were unable to attend a sampling, offer a sample-size portion when the recipe appears in the menu rotation. Many of your guests are worried about being wasteful with food. Sample sizes will help remove this barrier. They can have a regular-size portion if they decide they like the dish.
7. Post pictures of new menu items on bulletin boards, in resident newsletters or on television monitors if you are able.
8. Some recipes have an implied "theme." Build a new recipe into a theme meal event. Even though your guests enjoy meat and potatoes, they might try a "Walking Taco" for a baseball-themed meal, for example. Decorate the dining room and do some "tablescaping" that follows the theme.


NEW FALL/WINTER MENU RECIPES
Harvest Chicken Salad
(Simply Menus Recipe #19733) Servings: 50
12-1/2 lb Lettuce, washed, torn
7-3/4 lb Fully Cooked Fajita Chicken Breast Strips
3-1/8 lb Shredded Cheese
1 qt + 2-1/4 cups Craisins
1 qt + 2-1/4 cups Celery, diced
1 qt + 2-1/4 cups Pecans, chopped
12-1/2 each Apples, peeled, diced
50 slices Raisin Bread, cubed
1 qt + 2-1/4 cups Poppyseed Dressing
Place 1 cup lettuce on each plate. Top with #12 scoop chicken and 1 oz cheese. Top with 2 Tbsp craisins, 2 Tbsp celery, 2 Tbsp pecans and 1/4 cup apples. Top with 1 slice cubed raisin bread (may lightly toast, if desired). Serve with 2 oz dressing at time of service.


Autumn Chicken Melt
(Simply Menus Recipe #18280) Servings: 50
1 qt Italian Dressing
2 cups Cranberry Sauce
9 lb + 4 oz Fully Cooked Fajita Chicken Breast Strips
100 slices White Bread
1/2 cup Butter or Margarine, softened
5 each Onions, sliced thin
100 slices Fully Cooked Bacon
50 slices Mozzarella Cheese
Wisk Italian dressing and cranberry sauce to form smooth mixture. Place chicken in dressing mixture; allow to soak for about 10 minutes under refrigeration. Spread each slice of bread with softened butter or margarine; set aside. Sear marinated chicken on grill along with thin-sliced onion, adding oil as needed. Portion chicken, onion and bacon onto 50 bread slices, dividing evenly; add cheese slice to each; place second slice of bread on each with buttered side on top. Grill sandwiches until golden brown. Place cooked sandwiches in 2 in deep pans. Serve immediately. For easy handling, cut sandwiches in half diagonally.