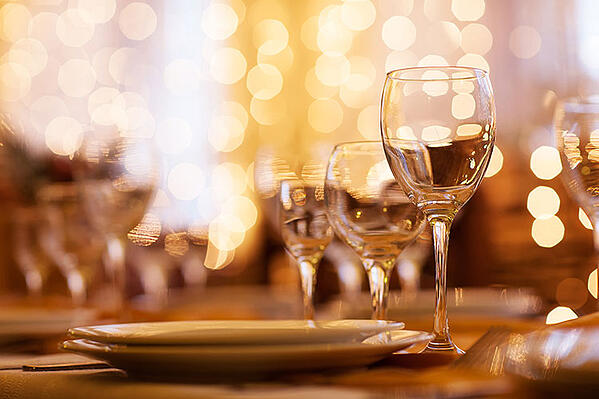 Dining enhancements and attractive plate presentation don't have to break the bank. It takes a team willing to adopt a mind-set of service. Here are 7 great tips to creating pleasing ambiance to your food service establishment.
1.First Impressions: Ambiance all starts with first impressions. Dining facilities must think about the entire experience their customers have – from finding the establishment in a brochure, phonebook or online to parking and looking at the building exterior and making their way through the entryway to the table. Think about the five senses – sight, hearing, taste, smell and touch – and how to make each work for your facility.
2.Staff: Think about the hosts, hostesses, bartenders and servers your guests come into contact with. Also think about the back of the house staff, because diners often catch a glimpse of them during their visit, too. Are everyone's appearances and manners pleasant, and do they reinforce your restaurant's brand? Training, evaluating and continuing education are vital. Many vendors have wait staff training resources available to help. Ask your Martin Bros. representative for more information.
3.Menu: Are your menus themselves in good condition? Does their design match the look and feel of your establishment? Are signature items, enticing words and photography included? If there is pricing by each item, is it discreet, without dollar signs and ending in 9. Martin Bros. Marketing can help with menus. Ask your Martin Bros. representative for more information.
4.The Wait: Don't forget to think about how you're entertaining your guests while they wait. For kids, make sure you have at minimum some crayons and paper to keep them busy. Ask if children would like a package of crackers to tide them over until their meal comes. Some vendors are even realizing the importance of making "the wait" work for you. For instance, Heinz recently started including a QR code on the back of specially-marked ketchup bottles to take patrons to a mobile Trivial Pursuit game for all ages.
5.The Restrooms: Don't let speed of service or the lunch or dinner rush get in the way of maintaining your restrooms. Staff should frequently spot check them to make sure they're in tip-top shape. Make sure soap, towel and toilet paper dispensers are stocked and working well. Pick up items thrown on the floor, and wipe off sink areas. Check to make sure toilets are working properly and aren't clogged or grossly soiled.
6.Plate Presentation: Is care given to how items are arranged on plates? Are garnishes and sauces used to add special, signature touches? Elevate the experience even more with the right dinnerware, serving ware, flatware, drink ware and napkins.
7.Final Impressions: Ambiance doesn't stop with the last bite. Don't forget about all of the final impressions your guests have, including being asked if their meals were great, having a smooth payment process and being thanked for their visit a final time while leaving.