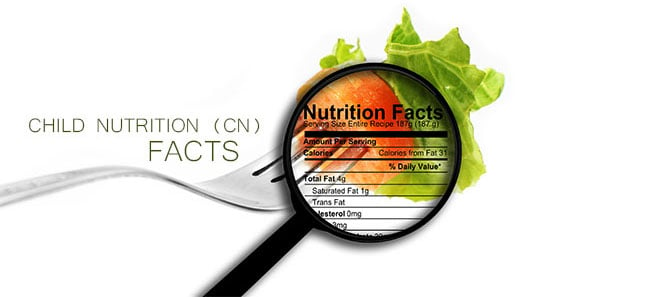 In schools, child nutrition is important to the staff, to the kids, & parents. These facts can help your establishment achieve healthier lifestyles.
Child Nutrition labeled products are main dish products that contribute meat/meat alternate components to the meal pattern.
An ounce equivalent grain may be listed on a CN label if it is contributed in the product.
The CN label's purpose is to easily identify the serving size and meal component contribution of the food product.
There are no requirements for schools to serve CN labeled products.
There are no requirements for manufacturers to CN label their products.
A CN labeled product is not nutritionally superior to a non-Child Nutrition labeled product.
According to the USDA, inspectors cannot accept CN labels that come from marketing materials such as websites, flyers or point of sale materials. The only acceptable form we are aware of is the label that comes on the box. If a product is CN labeled, then it is required to be on the box.
WHAT ARE...?
Meat and meat alternates include meat, poultry, fish, cheese, yogurt, dry beans and peas, whole eggs, alternate protein products, peanut butter or other nut or seed butters and nuts and seeds.
Meal patterns give guidance on the minimum number of components and amounts of food which must be served as part of a reimbursable meal.
Ounce equivalent grain is a way to simplify grain needs. In general, one slice of bread, one ounce of ready-to-eat cereal or a half cup of cooked rice, cooked pasta or cooked cereal can be considered one ounce equivalent from the grains group.