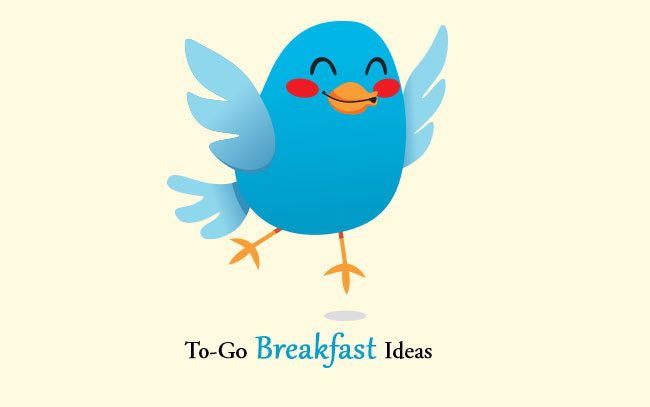 Many understand the benefits of breakfast and the impact it can have on students' success in the classroom. Still, most students struggle to consume breakfast on a daily basis. However, there are answers! Today, more than ever, breakfast is everywhere! Consider marketing some of your choices as grab 'n go for the classroom to get in on the craze of morning meals anytime and anywhere!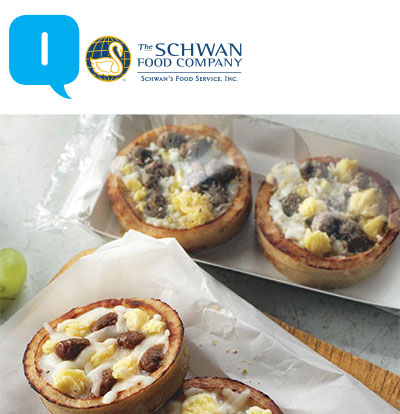 Beacon Street Café™ Breakfast Pizza Sliders (999500 – 144/1.27 oz)
Topped with turkey sausage, egg and cheese. Simple freezer to oven preparation. Individually wrapped two per pack.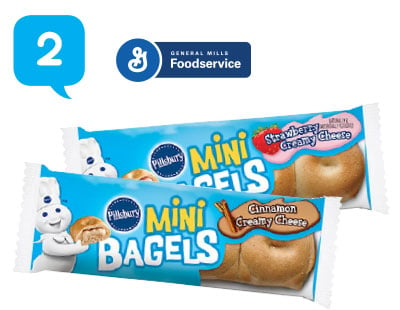 Pillsbury™ Mini Bagels with Creamy Cheese

A twist on a kid favorite!
Individually wrapped.
Strawberry (964000 – 72/2.43 oz)
Cinnamon (963990 – 72/2.43 oz)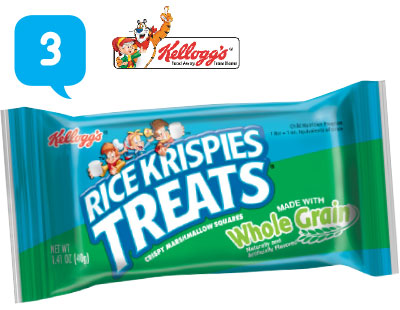 Rice Krispies Treats® Made With Whole Grain (413718 – 80/1.41 oz)
Satisfy students' craving for the creamy, crispy, classic marshmallow square bars they know and love while meeting K-12 school meal requirements.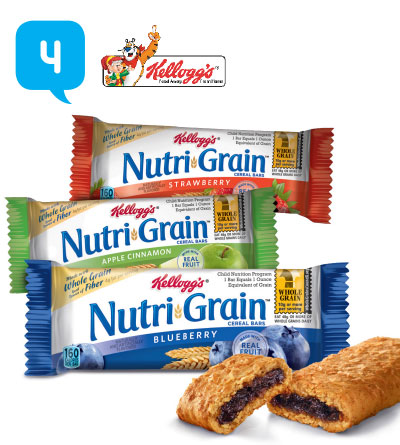 Nutri-Grain® Cereal Bars
Reformulated bars make morning meals (and snacks) easy and nutritious.
Blueberry (415400 – 96/1.55 oz)
Strawberry (415410 – 96/1.55 oz)
Apple Cinnamon (415420 – 96/1.55 oz)

#1 Cinnamon Whole Grain-Rich Toasty Biscuits
A simple cinnamon butter baked-on topping turns plain biscuits into spectacular, flaky breakfast treats.
1/2 cup Butter, unsalted, softened
1/2 cup Sugar
2 Tbsp McCormick Ground Cinnamon (472248; 472251)
1 tray General Mills Pillsbury™ ZT Whole Grain Mini
Baked Biscuits (999180), thawed
Remove plastic overwrap from thawed biscuits. Place biscuit tray on parchment-lined half sheet pan. Microwave butter for 20 seconds. In small bowl, mix butter, sugar and cinnamon together. Spread butter mixture evenly over biscuits using an offset spatula. Bake at 375°F for 6-12 minutes. Makes 35 servings (1 oz each).
#2 Better than the Snooze Button Smoothies
A cherry-chocolate pairing. Great for serving after the clocks spring forward!
10 cups Canned Cherries, drained
1/4 cup Cocoa Powder
1 bag General Mills Yoplait® ParfaitPro® Lowfat Vanilla Yogurt (904760)
Chill drained fruit several hours or overnight under refrigeration. Place fruit in large-capacity blender or prepare in batches. Blend on high speed 1 minute; stop blender; stir with spatula; continue to blend until smooth. Measure to verify that pureeing has resulted in 8 cups of fruit; puree additional fruit if necessary. Whisk puree, cocoa and yogurt together in large mixing bowl until smooth. Portion into serving cups; cover. Serve chilled. May be refrigerated overnight.
Check out our K-12 school recipes for more tweet worthy ideas!