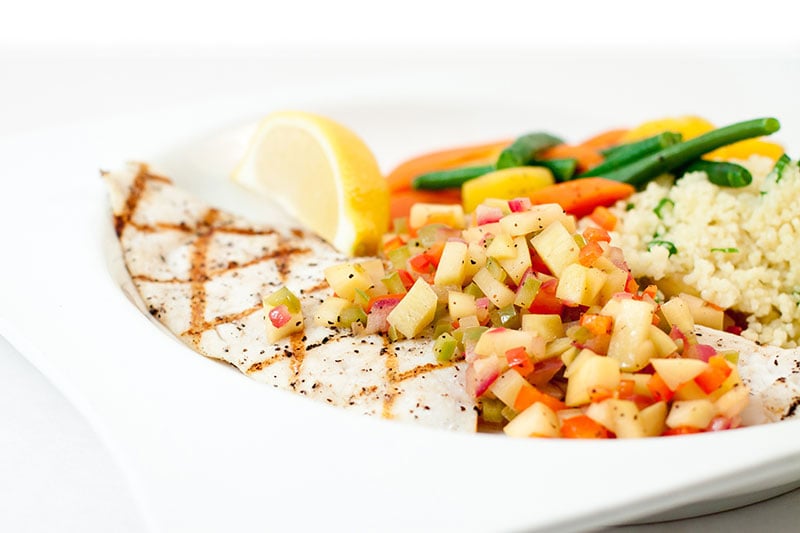 With the array of health benefits that fish provide, it is no wonder that it is on the top of the list of food service menu trends for 2016. Fish is a source of high-quality protein and is also filled with omega-3 fatty acids that are solidly linked to heart health and brain health.
There are many options out there when it comes to healthy fish preparation.
Here are 5 great ideas:

1. Seafood paired with fruit such as papaya, apple and mango adds an even bigger health benefit. For example, try Citrus Salmon with Orange Relish (Simply Menus Recipe #16612), Breaded Cod with Citrus Sauce (Simply Menus Recipe #14869) or Salmon with Pineapple Salsa (Simply Menus Recipe #15792)!
2. Seafood Casseroles are wonderful! It's not just about tuna noodle casserole anymore! Try Salmon Casserole (Simply Menus Recipe #1328) or Crab Casserole (Simply Menus Recipe# 13311)

3. Nut-encrusted seafood has made a resurgence. Specifically, crusted mahi-mahi, salmon and shrimp have been very popular. Some recipe ideas to try include Pecan Crusted Tilapia (Simply Menus Recipe #19413) and Almond Encrusted Salmon (Simply Menus Recipe #17774).
4. Don't forget that fish can be more than just an entrée option! Try it as an appetizer, as well! Some great seafood appetizer product ideas include High Liner FPI Breaded Shrimp Mates (924500) and Mango Salsa (928530) and Chipotle Pepper (928540) Shrimpanadas.
5. Fish is definitely even taking the place of other proteins on the plate. Where you would typically only see beef or chicken tacos, for instance, fish tacos are becoming more prominent on menus. Fish Reubens, seafood sliders made of crab cakes, salmon and mahi-mahi are beginning to overtake sandwich and burger options, as well. Great ideas to try include Fish Tacos (Simply Menus Recipe #16186) and Seafood Sliders (Simply Menus Recipe #15186).
CRAB CASSEROLE
Simply Menus Recipe #13311 • Servings: 50 (3 oz)
9 lb + 8 oz Imitation Crab
2 qt White Sauce
1 cup Margarine
1/2 cup Chopped Onion
2 qt Breadcrumbs
2 Tbsp Lemon Juice
2 Tbsp Parsley, chopped
1 tsp Garlic Powder
1 tsp Salt
1 tsp Pepper
Crumb Topping: Melt margarine; mix in onion, breadcrumbs, lemon juice, parsley, garlic powder, salt and pepper until thoroughly blended; set aside. Crab Mixture: Fold white sauce into crab just enough to bind; place mixture in 12x20x2 inch steam table pan; sprinkle crumb topping overtop; bake at 350°F until hot and breadcrumbs are brown; serve with lemon wedge (optional).
---
PECAN CRUSTED TILAPIA
Simply Menus Recipe #19413 • Servings: 4
4 each Tilapia Fillets – 4 oz
1/4 cup Milk
1/4 cup Pecans, ground
3/4 cup Breadcrumbs
1 tsp Garlic Powder
1/2 tsp Paprika
1 tsp Parsley
1/4 tsp Salt
2 Tbsp + 2 tsp Margarine
Place tilapia in shallow dish. Pour milk over fish. In a bowl, combine ground pecans, breadcrumbs, garlic powder, paprika, parsley and salt. Remove filets, allowing excess milk to drain off. Dredge each filet in pecan mixture, coating all sides. Place each coated filet on lightly oiled baking pan(s). Melt margarine. Drizzle each portion of fish with 2 teaspoons melted margarine. Bake at 375°F for 30-45 minutes or until done.
---
FISH TACOS
Simply Menus Recipe #16186 • Servings: 20 (2 each)
40 each Breaded Cod – 2 oz
40 each Flour Tortilla – 6 in
40 oz Shredded Lettuce
40 oz Shredded Cheese
As needed Salsa
As needed Sour Cream
Bake cod at 400°F for 18-20 minutes or until the center of the fillet flakes easily. Place tortillas on hot grill for 10-15 seconds. Place one cod portion into each warm tortilla. Top each with one ounce lettuce and one ounce shredded cheese. Serve with salsa and sour cream.