Consider trying one of these four delicious hearty recipes. In turn, you will be providing your guests with the nostalgic taste of home. It's food for the soul.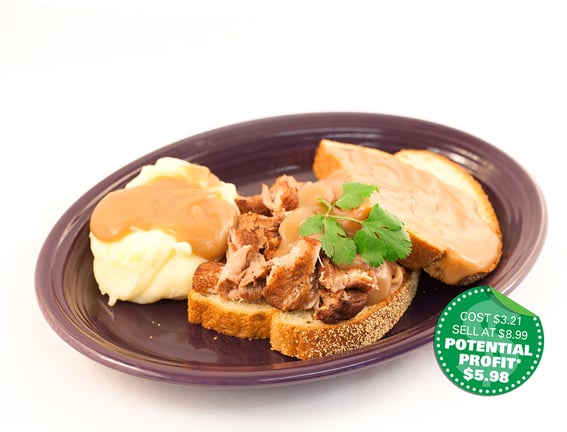 SMOTHERED OPEN FACE PORK SANDWICH
JALAPEÑO CORNBREAD WITH A SIDE
5 oz Farmland Smoke'NFast® Roasted & Seared Pork Shoulder (928620)
2 each Rotella's Jalapeño Cornbread Loaf Slices (345574)
1/2 cup Lamb Weston Lamb's Supreme® Seasoned Mashed Potatoes (961440)
3 oz Pork Gravy made from Custom Culinary PanRoast® Mix (504040)
---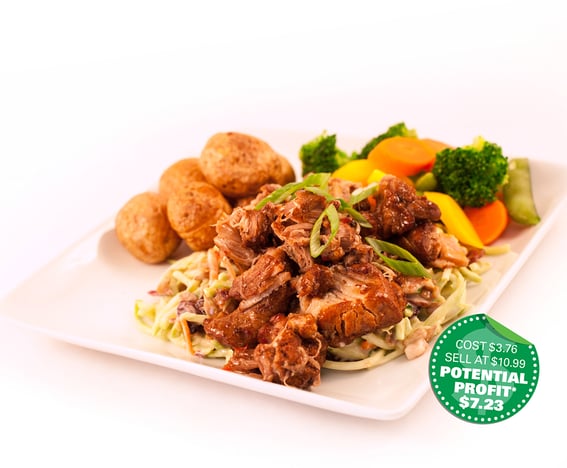 SPICY PORK WITH BROCCOLI SLAW
WITH BABY BAKER POTATOES & VEGGIES
Spicy Pork
6 oz Farmland Smoke'NFast® Roasted & Seared Pork Shoulder (928620)
2 oz Bay Valley Saucemaker™ Sweet Chili Sauce (430570)
1/2 oz Roland Chipotle Peppers in Adobo Sauce (561180), diced
Broccoli Slaw
5 lb Bix Shredded Broccoli Slaw Mix (380190)
1/2 gallon Ventura Classic Gourmet® Select Creamy Coleslaw Dressing (630070)
12 oz Azar Roasted & Salted Sunflower Kernels (462030)
2 cups Sugar Foods Fresh Gourmet® Dried Cranberries (581750)
12 oz Farmland Gold Medal Single Slice Apple Cider Bacon (914040), diced
1 cup Bix Diced Red Onion (380381)
Baby Baker Potatoes
4 oz Simplot RoastWorks® Baby Bakers Potatoes (963050)
Veggies
4 oz Norpac Flav-R-Pac® Grande Classics® Pacific Blend Gourmet Vegetables (962700)
---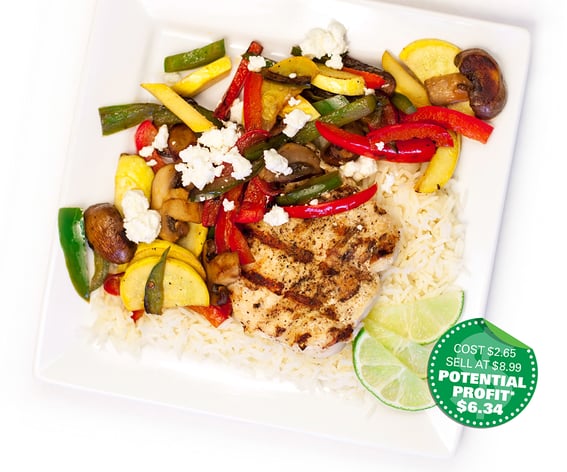 MEDITERRANEAN LEMON CHICKEN
1 each Wayne Farms Boneless Skinless Marinated Chicken Breast – 6 oz (977420)
As needed McCormick Greek Seasoning (475711)
1 oz Capital City Red Bell Pepper (361251), strips
1 oz Capital City Green Bell Pepper (361261), strips
2 oz Monterey Thick Sliced Mushrooms (360940)
1/4 cup Capital City Yellow Squash (361456), sliced
1/2 cup Mars Uncle Ben's® Original Converted® Rice (460600)
1 oz Stella Crumbled Feta Cheese (905848)
---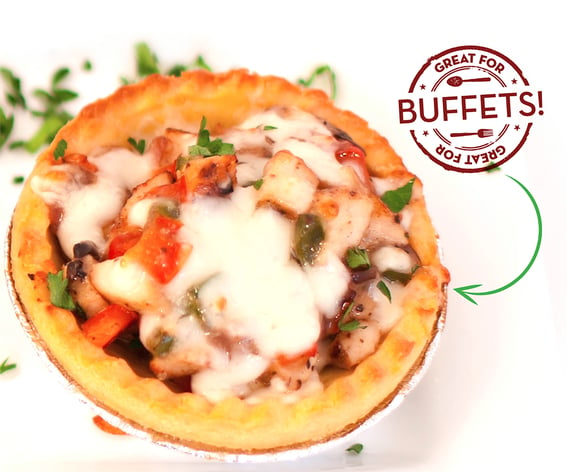 CHICKEN & VEGGIE TART
Servings: 3
3 each Kellogg's Keebler® Ready Crust® Pastry Tart Shells (410810)
3 oz Perdue Harvestland® Diced Chicken Breast (934560)
2 oz Capital City Yellow Squash (361456), diced
2 oz Zucchini Squash (361451), diced
4 each Monterey Cello Mushrooms (360921), diced
2 oz Bix Diced Red Onion (380381)
3 oz Custom Culinary Whisk & Serve® White Sauce Mix (501540), prepared
1-1/2 oz Mozzarella Cheese
Sauté chicken and veggies; add white sauce. Divide and spoon into shells; top with cheese.
Bake at 350°F until cheese is melted and everything is heated through.