Food service operators beware: you don't want to miss the boat when it comes to promoting Lent items to your customers. We've created a few foodservice recipes that are not only delicious...they are also sure to add $$ to your bottom line.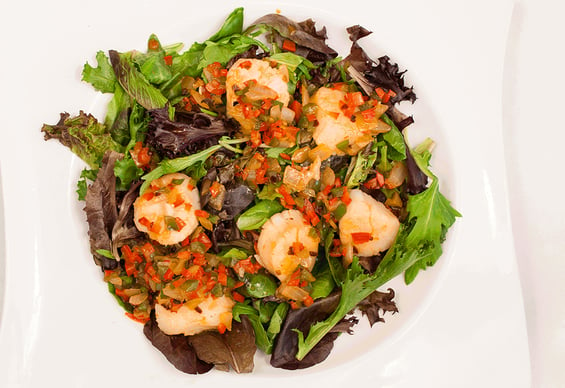 Seared Scallop Salad
(View Our New, Quick and Fun Step-By-Step Video Here)
5-6 each High Liner American Pride Dry Sea Scallops – 10-20 ct (925200)
1 oz Capital City Medium Yellow Onion (361075), small diced
1 oz Capital City Red Pepper (361250), small diced
1 oz Capital City Jalapeño (361280), small diced
2 Tbsp Mott's ReaLime® Lime Juice (733100)
1/2 tsp McCormick Crushed Chipotle Pepper (475761)
2 oz C.H. Robinson Spring Mix (360666)
1. Add olive oil to a sauté pan over medium-high heat. Add scallops; salt and pepper. Sear scallops until browned (no need to completely cook).
2. Sauté onion, red pepper and jalapeño in another pan with olive oil until tender. Add lime juice and chipotle pepper. Add the seared scallops.
3. Continue to cook until scallops are done. If there is not enough liquid in the pan, add some vegetable or seafood stock.
4. Spoon scallops and vegetables over spring mix.
5. Serve with dressing, such as Ventura Classic Gourmet® Reserve
Specialty Balsamic Vinaigrette (630628).
Cost: $6.78 Sell at: $15.99 Potential Profit: $9.21
---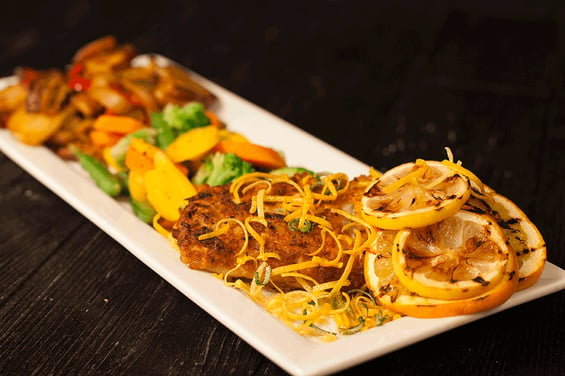 Citrus Crusted Cod
2 each High Liner FPI North Atlantic Cod
Loin Fillet – 6 oz (929040)
1/2 cup Buttermilk
2 oz Flour
1/2 cup Breadcrumbs
1 each Orange
1 each Lemon
As needed Salt
As needed Pepper
1 oz Oil
1. Place buttermilk in a shallow pan. In another shallow pan, place flour. In third shallow pan, mix breadcrumbs, 2 teaspoons grated orange peel, 2 teaspoons grated lemon peel and salt and pepper, if needed.
2. Lay fillets on a plate or pan, pour juice from the orange and lemon overtop and add salt and pepper, if needed.
3. Lightly dust fillets in the flour, dip in the buttermilk and coat with the breadcrumb mixture.
4. Pan fry each side of fillet until golden brown and cooked through.
5. Garnish with orange and lemon zest and grilled lemon and orange slices.
6. Serve with potato, vegetable and dinner salad or soup.
Cost: $4.15 Sell at: $11.99 Potential Profit: $7.84
---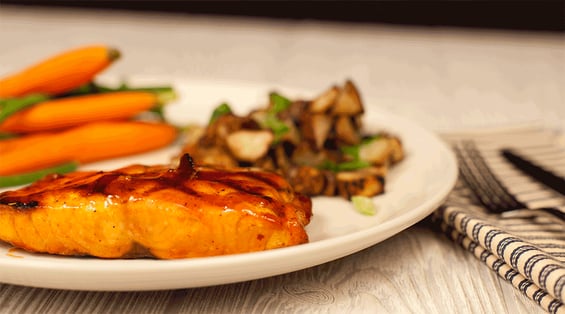 Honey Bourbon BBQ Salmon
2 each High Liner Icelandic Salmon Fillet – 6 oz (925220)
4 oz Ventura Smokehouse 220® Honey Bourbon BBQ Sauce (631820)
As needed McCormick Grill Mates® Seafood Seasoning (472021)
As needed Roland Pomace Olive Oil (620391)
6 oz Bix Green Top Peeled Mini Carrots (380538)
4 oz Norpac Flav-R-Pac® Petite Whole Green Beans (346318)
As needed McCormick Grill Mates® Vegetable Seasoning (470201)
8 oz Potatoes
Brush fillets with olive oil, season with seafood seasoning and grill until almost cooked. Brush with BBQ sauce, and finish cooking (the sauce should be tacky). Steam vegetables and season with vegetable seasoning. Serve with potatoes of choice.

Cost: $5.53 Sell at: $14.99 Potential Profit: $9.46