Summer is here! So, what's hot this year besides the temperature outside? In the food service world, we've got some ideas! Take a look at these four summer trends for a "taste" of what patrons could be tasting this summer! And check out our foodservice recipes gallery for more ideas!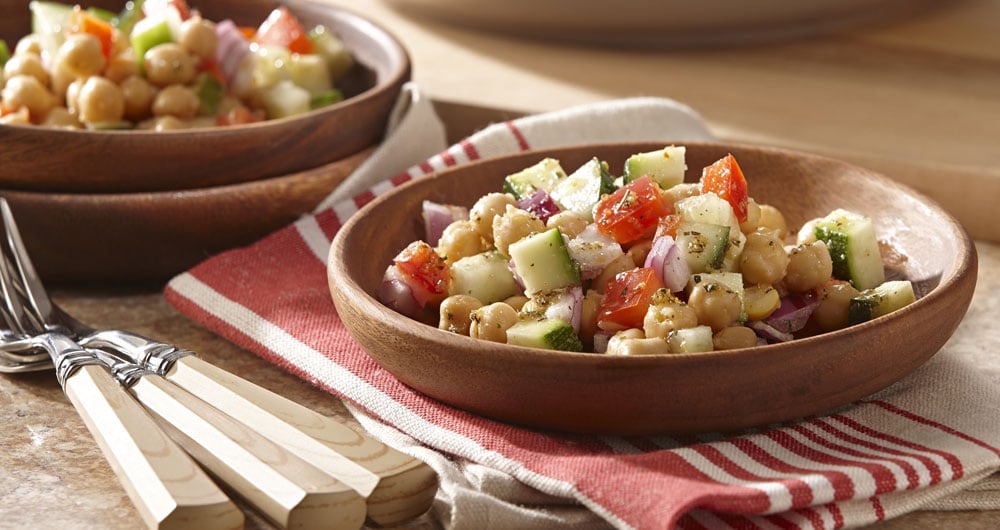 THE TREND: HEALTHY SEASONING
Another trend that's here for the long haul is healthy eating. People will continually look for new methods of cooking and flavoring their food to bring new, exciting options to their diets!
GARLIC & HERB CHICKPEA SALAD
Inspired by McCormick
PERFECT PINCH® GARLIC & HERB SALT FREE SEASONING
(475751 – 1/20 OZ)
Garlic is balanced by mild orange peel and herbs like oregano, basil, thyme and rosemary – all without the salt. Excellent on fish, seafood, chicken and pork as well as in marinades.
YIELD |
4
2 Tbsp – Roland Pomace Olive Oil (620390)
2 Tbsp – B&G Regina® Fine White Wine Vinegar (341563)
2 tsp – McCormick Perfect Pinch® Garlic & Herb Salt Free Seasoning (475751)
1 can – Bush's Low Sodium Garbanzos/Chickpeas (601060), drained, rinsed
1/2 cup – Capital City Cucumber (360460), diced
1/4 cup – Capital City Red Bell Pepper (361251), diced
1/2 cup – Capital City Zucchini (361451), diced
1/4 cup – Wholesale Red Onion (361112), diced
PREP | Mix oil, vinegar and seasoning in large bowl with wire whisk until well blended. Add chickpeas, cucumber, bell pepper, zucchini and onion; toss to coat well.
---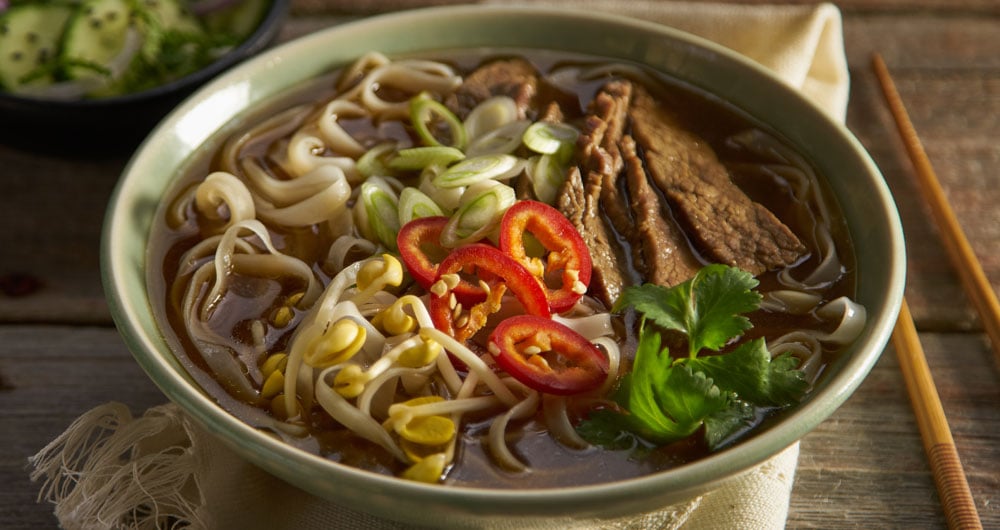 THE TREND: NOODLE BOWLS
Bowls are a big trend, and noodle bowls combine the element of simplicity with the complexity of rich flavors. Aromatic broths, fresh herbs and vegetables, well-seasoned proteins and of course – the noodles – deliver the textures, colors and tastes that create a feast for the senses!
VIETNAMESE STYLE PHO BROTH BOWL PASSPORT GLOBAL FLAVORS™ BEEF PHO BROTH
Inspired by Custom Culinary
(956650 – 4/6 LB)
Authentic Asian noodle bowls – including Vietnamese pho, Japanese ramen and Thai curries – are changing the way patrons look at comfort food. These savory dishes feature fresh ingredients and bold flavors.
With Passport Global Flavors™ Asian Broths, you can bring these on-trend dishes to your menu with ease.
Made from slow-cooked meats, vegetables and seasonings to deliver an authentic meal experience without the time or labor required to make complex broths from scratch. Easy to prepare – boil or steam in bag – and the frozen, ready-to-use format has superior freeze-thaw stability.
Also Available:
Tonkotsu Ramen Pork Broth (956660) 4/6 lb
Thai Style Vegetable Broth (956670) 4/6 lb
3 oz

–

Roland Hsinchu Rice Noodles (560790), prepared
10 oz

–

Custom Culinary Passport Global Flavors™ Beef Pho Broth (956650), prepared
2 Tbsp

–

Green Onion (361010), sliced
2 Tbsp

–

ConAgra La Choy® Fancy Bean Sprouts (602900)
1 Tbsp

–

Capital City Serrano Chili Pepper (361150), thinly sliced
1 oz

–

Greater Omaha Choice Beef Flank Steak (930720), thinly sliced
1 Tbsp

–

Cilantro (360490)
PREP | Layer noodles, broth, vegetables and toppings in a bowl.
---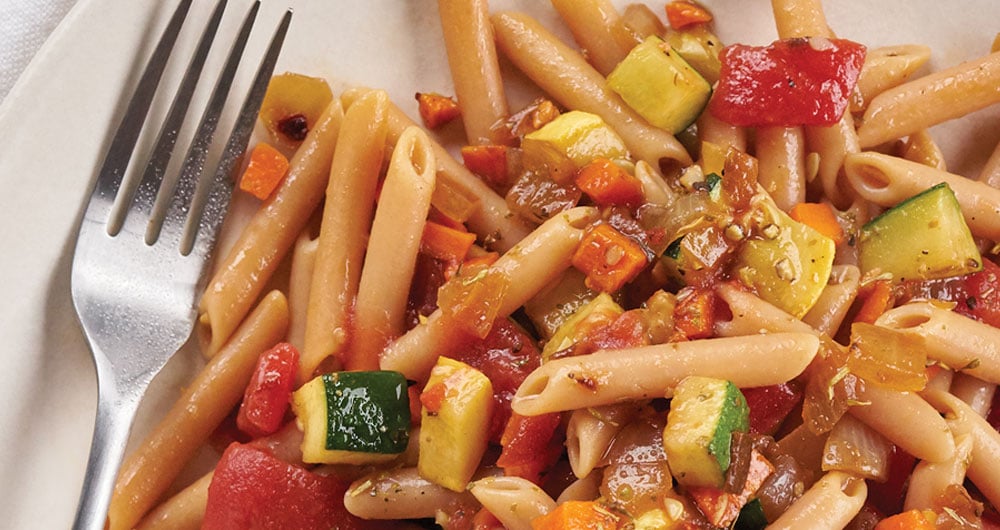 THE TREND: PLANT-BASED FOODS
With more consumers opting for plant-forward menu choices, we're going to continually see new products developed to meet this trend as well as new recipes created to turn it into success for foodservice operators!
RATATOUILLE LENTIL PENNE
Inspired by Basic American Foods
LENTIL PENNE
(481330 – 2/5 LB)
A delicious, versatile way to bring more plant-based protein to menus. With more consumers opting for plant forward menu choices, Lentil Penne is an easy way to bring legumes to the center of the plate.
3 Simple Ingredients
Red Lentil Flour, White Rice and Pea Protein (all sourced from US or Canada)
No artificial flavors, colors or preservatives
Packed with Nutrition
Complete protein — 21g protein*
6g fiber*
*per 100 gram serving
Meets Nearly All Dietary Restrictions
Vegan
Vegetarian
Gluten Free
Free of Big-8 Allergens
Heart-healthy: low sodium, fat and cholesterol
Kosher Pareve OU
YIELD |
38
5 lb

–

Basic American Lentil Penne (481330)
5 Tbsp

–

Vegetable Oil
1/2 cup

–

Extra Virgin Olive Oil
1 qt

–

Carrot (360280), small diced
1 qt

–

Capital City Yellow Onion (361077), small diced
1-1/2 qt

–

Capital City Zucchini (361451), medium diced
1 qt

–

Capital City Yellow Squash (361456), medium diced
2 Tbsp

–

Wholesale Minced Garlic (391020)
66 oz

–

ConAgra Angela Mia® Diced Tomatoes – No Salt Added (551480)
1/4 cup

–

McCormick Lawry's® Salt-Free 17 Seasoning (473451)
1 Tbsp

–

McCormick Crushed Red Pepper (475721)
2 Tbsp

–

McCormick Table Grind Black Pepper (472538)
2 Tbsp

–

Kosher Salt
PREP | Prepare penne as directed; toss with vegetable oil. Heat olive oil until simmering, about 2 minutes. Stir in carrot and onion; cook 5-8 min. Add zucchini and squash; cook 3 minutes. Add garlic; cook 15 seconds. Add remaining ingredients; simmer 15 minutes. Combine sauce with warm penne.
---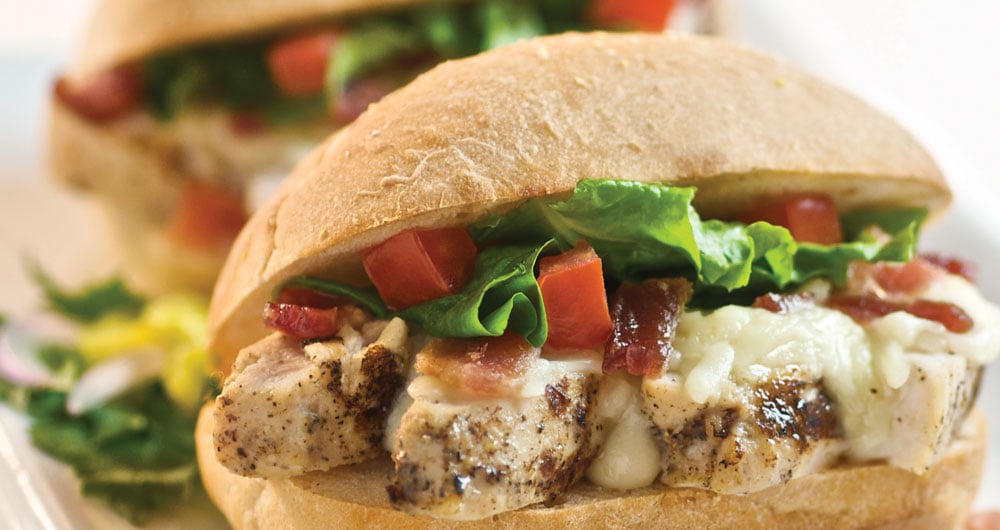 THE TREND: STREET FOODS
Food trucks, fair foods and ballpark favorites continue to be popular! Think unique, fun foods that you'd get at a street cart, festival or stadium with some added possibilities like plate presentation!
CHICKEN CARBONARA SLAMMERS
Inspired by Tyson
FAJITA FLAVORED CHICKEN STRIPS
(973760 – 2/5 LB)
Controlled marination and seasoning process ensures consistent flavor.
Savory grill flavor complemented with lots of zesty black pepper.
Fully cooked strips are simple to prepare.
YIELD |
12
24 each

–

Vie de France French Rolls (994870)
2-1/4 lb

–

Tyson Fajita Flavored Chicken Strips (973760)
1-1/2 cups

–

Kraft Heinz Alfredo Sauce (943480), warmed
6 oz

–

Stella Shredded Asiago Cheese (904910)
6 oz

–

Tyson Bacon Pieces – Fully Cooked (916890)
As needed

–

Spring Mix Lettuce (360666)
As needed

–

Bix Diced Tomatoes (380248)
PREP | Preheat oven to 400°F. Top bottom half of each roll with 1-1/2 ounces chicken and 1 tablespoon each Alfredo sauce, asiago cheese and bacon pieces. Partially close with top half of each roll and place on baking sheet. Heat in oven for 45 to 50 seconds or until cheese is melted and bacon is crisp. Garnish each sandwich with lettuce and tomatoes.