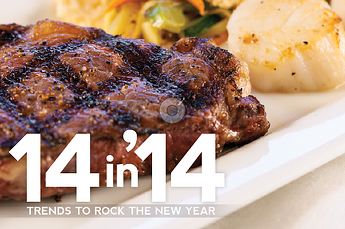 I've been checking out the 2014 national food trends that have been coming out, and there's some great ideas on these lists. I've thought about how these ideas could work for our customers in the Midwest, and I've also used my experience in the foodservice industry and traveling around to Martin Bros. customers to figure out what other ideas are shaping up to be successful trends in the Midwest. So...here it is! My exclusive list of 14 trends for a prosperous 2014!
1. Capitalizing on Holidays & Special Events
Holidays are historically big days and weeks for restaurants. Mother's Day is usually the busiest day, and Valentine's Day night is typically the busiest night of the year. These special days can increase your overall sales as well as your individual guest checks. Therefore, take advantage of the higher traffic potential by promoting specials and maximizing upselling efforts.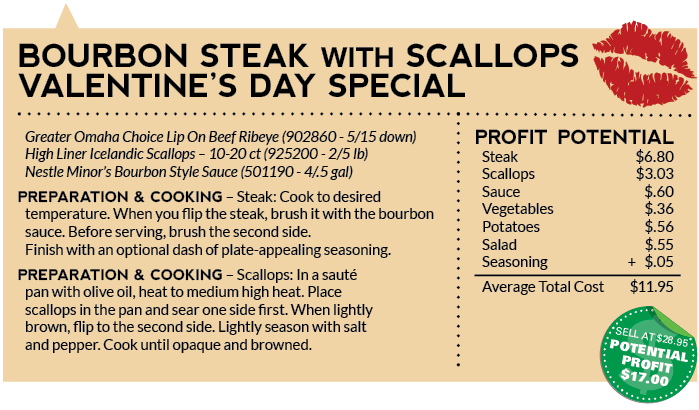 2. Comfort Foods
with

Signature Touches

Independent operators can take the center stage with great center of the plate options. Items such as Char-Broiled Meatloaf with a Peppercorn Mushroom Sauce, Artisan Grilled Cheese and Country Fried Steak with Mushroom Pasta rely on the comfort food trend while at the same time creating a distinctive spin.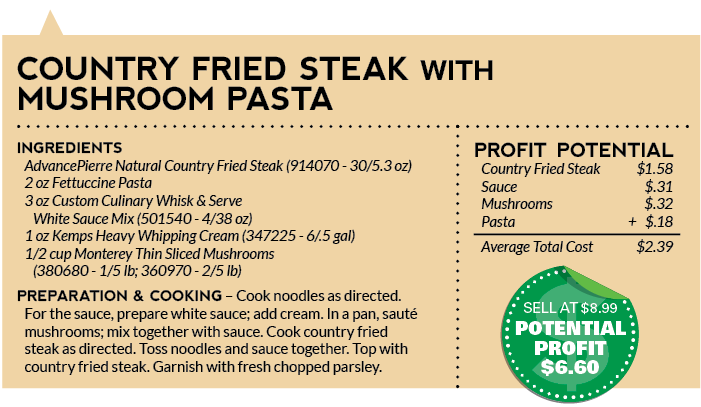 3. Breakfast
Breakfast is profitable, quick and easy to execute for cooks and servers. In addition, many people enjoy breakfast anytime of the day… or night. It's an important menu option for any foodservice facility to consider, especially those with extended hours.
According to Technomic's "10 Trends for 2014," more restaurants are introducing innovative breakfast items – often available all day. And while breakfast-and-lunch-only concepts are building a niche, other operators are promoting late-night breakfast menus, often in conjunction with 24-hour drive-thru service, and are seeing huge success.
4. Ethnic Foods
From big cities to small town Main Street, you'll find Mexican restaurants and Chinese food all along the way. And we are starting to see new ethnic foods popping up, too, including Indian, Thai, Korean, Japanese and more. In addition, we are starting to see more and more infusions and flavors that are customized to meet our American tastes.
5. Shareable Apps
Shareable appetizers are a great tool for upselling tables that want variety. They are also great to use when creating limited time offers during sports seasons and big games as well as for other special events.
Check out McCain and Brew City for some great ideas!
6. Regional Favorites
The pressure to keep your menu fresh continues to rise. Consider dressing up regional favorites with a signature touch. Doing so will keep your menu fresh and familiar at the same time.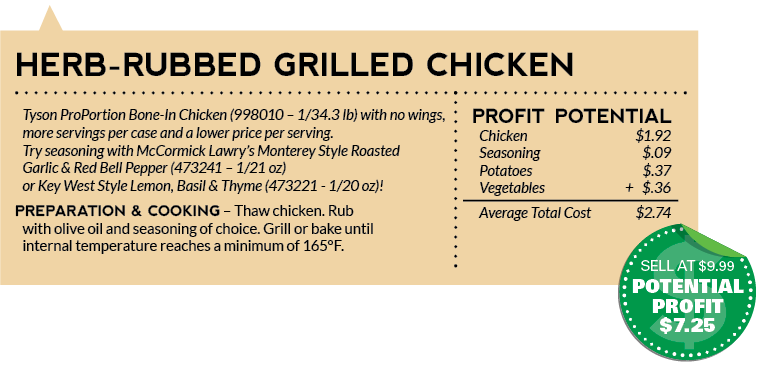 7. Pairings
Pairings (items that are served together to complement each other) and even flights (small plates that are served in a planned succession) are being featured on menus as a way to give customers something special. Pairings and flights provide added distinction and a more palate-pleasing meal for patrons. They also provide a great opportunity for upcharges and limited time offers.
8. Flatbreads
With many big chains introducing flatbreads, it's important to jump on the bandwagon to benefit from their advertising. Adding a flatbread pizza or substituting the traditional bun on some of your menu items will keep your menu competitive.
9. 2
for

$20 Facelift

As food and operating expenses rise and consumers continue to look to dining deals, try offering a "2 for $25" or "2 for $30" discount. These deals can still provide some exciting options for the cost-conscious consumer, but the extra $5 to $10 increase will help combat rising expenses.
10. Savvy Seafood
In many ways, seafood can be a hidden avenue for adding creativity to your menu. There are often opportunities to try different species, cooking methods and recipes because oftentimes, menus in the Midwest are dominated by beef, pork and poultry.
11. Proteins
with

potential

Take advantage of underutilized cuts of meat like flat iron, sirloin tip and flank, which can be used in many different applications and have great profit potential.

Two products to consider are our JBS 5 Star Choice Beef Shoulder Tender (902760) and our Greater Omaha Choice Beef Flank Steak (930720).

Proteins can also be pushed to another section of the menu.
An example would be adding rope sausage as a tasty Batter-Dipped Sausage Appetizer.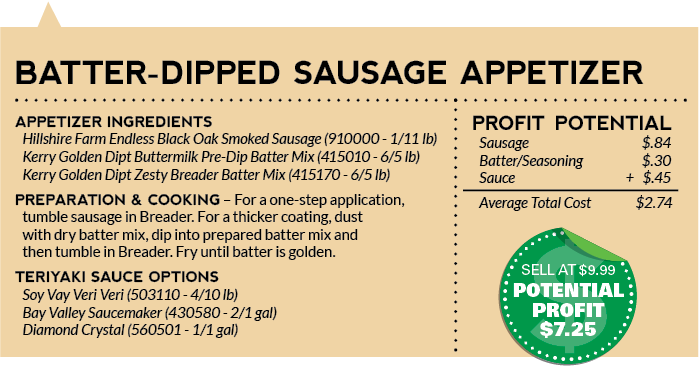 12. Utilizing Latest & Greatest Technologies
Social media marketing, digital menus and tableside electronic payment options are just some of the many newer and ever-changing technologies that facilities can use to boost their sales. The younger your target audience, the more they will come to expect certain technologies and will frequent the businesses that are on the cutting edge. Implementing some of these technologies in your business will help you stay competitive with the millennials and future generations.
13. Healthy Choices
Customers are still looking for their healthy or "perceived healthy" choices. There are many ways to incorporate this trend on your menu, from cooking oils to fresh ingredients to gluten free to un-breaded items to smaller plates and many options in between. Whatever your target audiences are looking for, try to accommodate them in order to continue to grow your business.
Martin Bros. has a food requirement online search option that can help you find healthy choices and items that meet specific dietary restrictions. Martin Bros. also has eight full-time registered dietitians that can assist with nutritional information. Ask your Martin Bros. representative for more information!
14. Indulgent Selections
While customers are still looking for their healthy (or "perceived healthy") choices, many will allow themselves to indulge a bit when they go out to eat. According to Technomic's "10 Trends for 2014," the demand for healthier eating is real, but so is the backlash. Therefore, don't forget about rich and sinful ingredients when planning your menu.
---
Join us March 12th at 1:30 CST for
Making the Most of Your Meat Dollars webinar!
Presented by: Chef Doug Voss