As we kick off another year, our chefs and specialists have taken the opportunity to reflect on some of the new trends that are presenting themselves in the food service world. While we know not all of these trends will have a place in your establishment, you may find one or two that you want to adopt this year. And so, without further ado, we present to the top 12 trends for 2017.
1. Entrée Bowls
What the skillet breakfast brought us years ago, the entrée bowl is looking at outdoing now. Entrée bowls are simply base items like pastas, rice or potatoes topped with meat and/or veggies and served featuring sauces or seasonings all served in a bowl! What makes entrée bowls amazing, though, is that they can span all types of restaurants and dayparts, and they can easily be taken to go. So, get ready to see them explode on menus this year.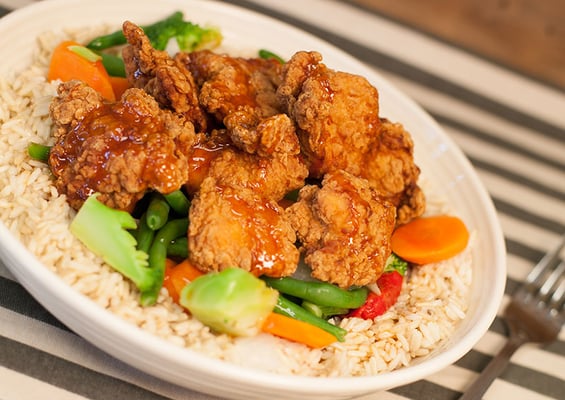 ASIAN CHICKEN BOWL
YIELD | 1
1 cup Uncle Ben's Rice
1 cup Norpac Flav-R-Pac® Grande Classics® Gourmet Vegetables
4 oz Tyson Homestyle Pepper Boneless Chicken Wings – Fully Cooked (971380)
2 oz Nestle Minor's® Szechuan Sauce (551820)
PREP | Prepare rice, vegetables and chicken as directed. Toss prepared chicken with sauce.
Build bowl. Serve.
---
2. Meatless Options
Vegetarian dishes are nothing too new. However, the buzz this year is on adding menu items that feature plant-based meat substitutes such as chickpeas, legumes, fungi and black beans.
3. Smoke & BBQ
Smoked and BBQ menu items have been big year after year. However, this year, we're going to see the trend featured with more unique cuts of meat such as brisket and pork belly. Big in the South, coming our way…and delicious!
4. New Takes on Bar Food
Everyone is serving onion rings, cheese curds and a whole bunch of fried foods. We all know that these items are popular and taste great. But, we also know that everyone's always looking for something a little different. This year, we'll be seeing new ideas popping up on appetizer menus that are sure to complement everyone's favorites.
---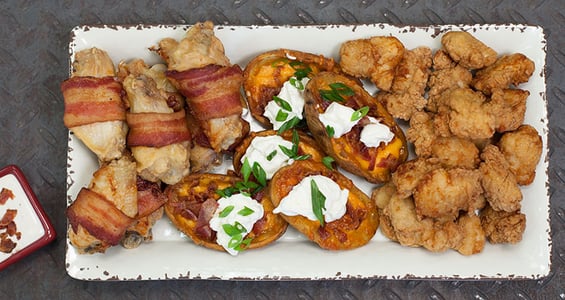 THE BIG GAME PLATE
YIELD | 3-4
BACON-WRAPPED WINGS
4 each Perdue Chef Redi® Medium Steamed Chicken Wings – Fully Cooked (976710)
4 strips Farmland Gold Medal Double Smoked Bacon – Slab Sliced – 18/22 (915560)
PREP | Wrap wings with bacon. Bake at 400°F until bacon is crisp.
LOADED POTATO BOATS
4 each Lamb Weston MunchSkins® Potatoes (997580)
4 oz Shredded Cheddar Cheese (900868)
4 Tbsp Farmland Gold Medal Double Smoked Bacon – Slab Sliced – 18/22 (915560), cooked, chopped
2 oz Kemps Sour Cream (900540)
1 Tbsp C.H. Robinson Green Onions (361010), chopped
PREP | Fill potatoes with cheese. Bake at 400°F until cheese is melted. Top with bacon, sour cream and onions.

SRIRACHA WINGS
8 oz Tyson Homestyle Pepper BonelesS Chicken Wings – Fully Cooked (971380
As needed McCormick Sriracha Seasoning (475771)
PREP | Cook wings as directed. Season.
---
5. Chef-Driven Restaurants
The chefs and their specialties are taking the lead these days. They're putting together menus featuring higher-quality, fresher and more flavorful products and creating both outside-the-box and classic dishes.
6. New & Improved COP
The center of the plate. If we're going to talk about new trends, we've got to talk about what's in the center. Both underused and higher-grade cuts of meat and seafood items will be big this year, as people continue to look for something unique and are willing to pay a little bit more for higher quality.
---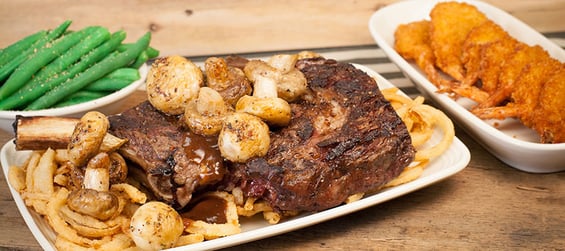 RIBEYE WITH DEMI-GLACE & GARLIC HERB MUSHROOMS
YIELD | 1
1 lb Greater Omaha 1920 Omaha Angus® Choice Boneless Beef Ribeye (937380) or Greater Omaha Bone-In Beef Ribeye (932780)
As needed McCormick Grill Mates® Montreal Steak® Seasoning (471181)
2 oz McCain Moore's® Onion Tanglers® Breaded Onion Slivers (964130), prepared
2 oz Custom Culinary Whisk & Serve® Demi-Glace Sauce Mix (501700), prepared
2-3 oz Monterey Medium White Mushrooms (360930)
As needed McCormick Lawry's® Salt-Free Garlic & Herb Seasoning (475601)
As needed Roland Pomace Olive Oil (620390)
4 oz Norpac Flav-R-Pac® Petite Whole Green Beans (346318)
As needed McCormick Grill Mates® Vegetable Seasoning (470201)
3-6 each King & Prince Mrs. Friday's® Breaded
Butterfly Shrimp – 16/20 (923730), prepared
PREP | Sauté mushrooms with garlic & herb seasoning and olive oil. Steam green beans; season with vegetable seasoning. Season ribeye with Montreal seasoning; grill to order. Build plate starting with prepared onion tanglers and topping with seasoned, grilled ribeye, prepared demi-glace and seasoned, sautéed mushrooms. Serve with seasoned, sautéed green beans and prepared shrimp.
---
7. Street Food
Everyone's favorite "food truck foods" are moving inside! Street Tacos, for instance, are one of the most trending items on restaurant menus right now, and you'll continue to see more and more street food items pop up as everyone looks for new ways to build menu excitement.
8. Unique Toppings
Year after year, we see new spices and seasonings come out and new, unique sauces being used by chefs, and we keep thinking they've created it all. And then more new options come out! This trend is amazing because it allows anyone to pretty easily and rather inexpensively customize their menu with unique flavors and menu items. With a few shakes of McCormick seasoning, a Grilled Chicken Sandwich becomes a Mojito Lime Chicken Sandwich. With a dollop of Custom Culinary Sauce, a Bacon Cheeseburger becomes a Bacon Onion Marmalade Burger. And that's just a couple of ideas. The options are virtually endless!
---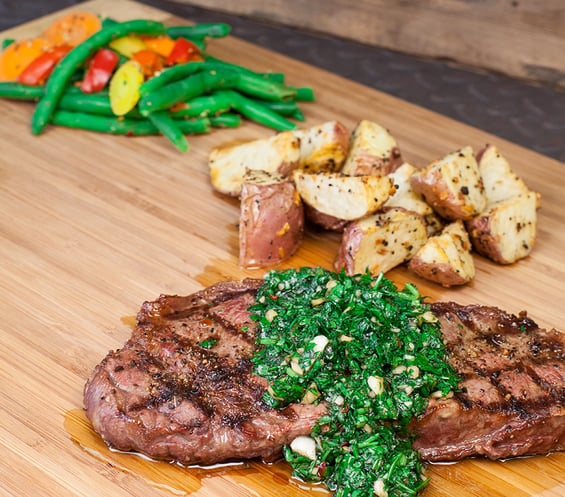 CHIMICHURRI STRIP STEAK
YIELD | 1
12 oz Greater Omaha 1920 Omaha Angus® Choice Beef Strip (937050)
1/3 cup Chimichurri (see recipe)
5 oz Norpac Flav-R-Pac® Roasted Redskins with Rosemary (909630)
4 oz Norpac Flav-R-Pac® Grande Classics® Key West Vegetable Blend (962870)

CHIMICHURRI
YIELD | 1
1 cup Bix Flat Parsley (361108), chopped
2 Tbsp Bix Basil (391000), chopped
1/4 cup C.H. Robinson Cilantro (360490), chopped
4-6 each Wholesale Garlic (380540), minced
1/2 cup Roland Pomace Olive Oil (620390)
2 Tbsp Roland Balsamic Vinegar (422110)
1/2 tsp McCormick Crushed Red Pepper (475721)
To taste Salt
PREP | Mix all ingredients for chimichurri; set aside. Steam vegetables. Prepare redskins as directed. Grill strip to order; top with chimichurri; serve with redskins and vegetables.
---
9. Ancient Grains
As the name suggests, ancient grains have been around for centuries. However, they have been getting more attention in recent years due to their natural origins and the amount of nutrition and health benefits they offer. They're simply whole grains that are essentially unchanged from the way they were initially cultivated. Quinoa is one of the most popular ancient grains right now, and it is a nutritional powerhouse. Other examples are barley and farro.
10. Smaller Kitchen Footprints
It makes sense both financially and environmentally to create and use the least amount of space possible for a kitchen. However, we can go further. Purchase cases that take up the least amount of space possible and opt for shelf-stable products that don't require valuable refrigerated or frozen storage.
11. Local, Clean Labels
Over the past couple of years, consumers have been increasingly interested in knowing more about the foods that they're eating. They want to know what all of the ingredients are, and they want to know where everything comes from. Most prefer that the ingredients originate close by, and they want simple ingredients that they know how to pronounce. They want locally grown, and they want clean label.
12. Expanding & Fitting the Trends
We're always looking at the menu and beyond. We want to know what's new in foodservice and what's trending in our communities and abroad. This way, we can develop new plans to increase traffic and grow sales. For example, these days, there are many ways that we can make pick up and delivery more convenient – from ordering online to offering quicker delivery. Another trend, for example, is that people want to learn things on their own while making learning an experience – through classes and small group events. Are you offering online ordering? Have you thought about hosting a cooking class with your chef? These ideas and more could be your next success!