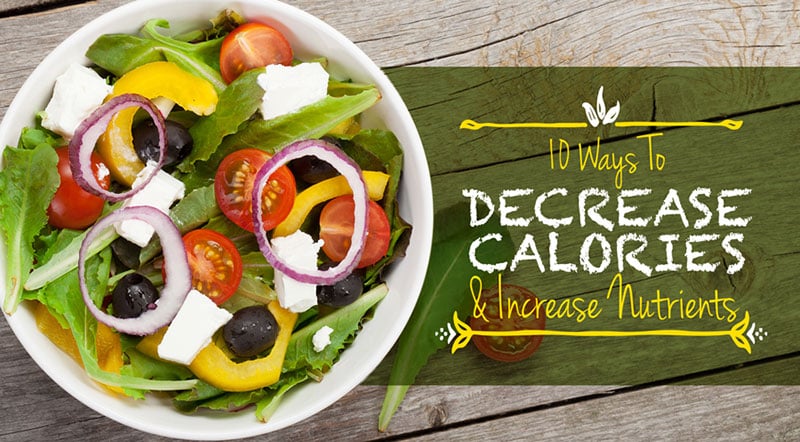 A few simple swaps can make it easy to cut back on calories and sodium and add nutrients to your recipes…all while maintaining and even improving flavor!
Consider these 10 simple swaps to your favorite recipes:

1. Swap white flour out for whole wheat flour.
2. Use applesauce, mashed banana or canned pumpkin instead of oil (or for half the oil) in muffin and cake recipes.
3. Add fresh fruits to salads.
4. Add diced fruits and fruit purees to top chicken, fish and pork.
5. Add chopped veggies and vegetable purees to soups, pastas, casseroles and pizzas.
6. Replace regular sour cream with Greek yogurt to get double the protein with less fat.
7. Use low sodium broths and bases.
8. Use low sodium and salt-free seasonings.
9. Try substituting lean ground turkey or chicken for some or all of ground beef in recipes.
10. Reduce the amount of sugar in recipes by one-third to one-half. Instead, add spices such as cinnamon, cloves, allspice and nutmeg or flavorings such as vanilla and almond extracts to boost sweetness.
RECIPES:
SLOPPY TOM ON BUN (Simply Menus Recipe #19705)
Servings: 36

7-1/4 lb Ground Turkey
2-1/8 cups Onions, chopped
1-1/8 cups Green Peppers, chopped
1/2 #10 can Tomato Sauce
1-1/2 tsp Mustard Powder
2 Tbsp + 1/2 tsp Brown Sugar
36 each Hamburger Buns
Brown ground turkey with chopped onions and chopped peppers. Drain off fat. Add tomato sauce, mustard powder and brown sugar. Simmer. Place one #12 scoop on each bun.
GOOD FOR YOU MACARONI & CHEESE (Simply Menus Recipe #17827)
Servings: 40
3 lb Elbow Macaroni, cooked
8 oz Custom Culinary Cream Soup Base
51-1/4 oz Warm Water
12-3/4 oz Squash
1 lb + 9-5/8 oz Shredded American Cheese

Pouring in a steady stream, add soup base to water, whisking vigorously for approximately 1 minute or until all mix is dissolved; simmer for 3 minutes, whisking occasionally. Combine cooked pasta, prepared cream sauce, squash and shredded cheese. Distribute equally into pan(s). Bake at 350°F.