As we welcome 2016, it's time to look at what's going to be hot and trending this next year in the foodservice industry! Are there items on this list that can be added to your menu and marketed to drive more business? What can be done in the back-of-the-house to pull it all together?
1. HOT PEPPERS
Spicy menu items and ingredients – especially sriracha – are very popular right now. They're on the big chain menus, and trusted brands are creating products to meet the need. For instance, McCormick recently released a new line of chile spices and seasonings – Crushed Chipotle (475761), Ground Jalapeño (90620513) and Sriracha (475771) – and Custom Culinary has a new Sriracha Lime Concentrate (500061). If it's spicy or says sriracha, it's part of the hot trend in food service!
Click here to check out great new seasonings from McCormick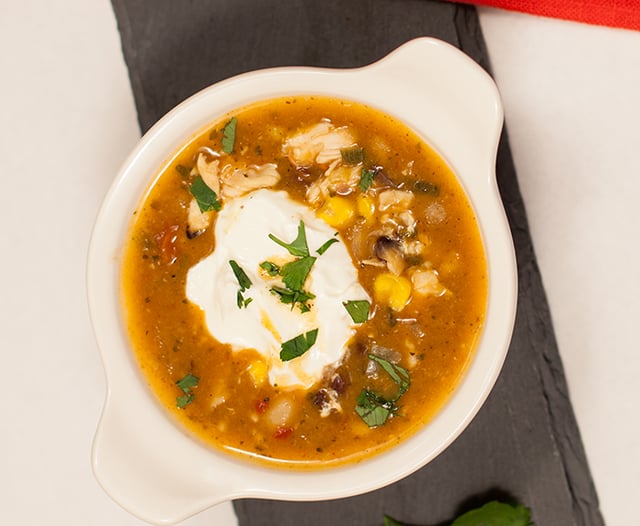 SRIRACHA FIESTA CHICKEN SOUP
Yield: 18
1 eachChef Francisco® Southwest Style Chicken Chili (950340)
1 qt Chicken Stock made from Master's Touch® Select Chicken Base (500760)
1 qt Bush's Best Taco Fiesta Black Beans (601510)
1 Tbsp McCormick Sriracha Seasoning (475771)
1 lb Hormel Fire Braised™ Chicken Breast (953440)
As needed Kemps Sour Cream (900540)
As needed C.H. Robinson Cilantro (360490, 360491), chopped
Mix and heat first five ingredients in a stock pot. For serving, top with sour cream and cilantro.
Cost: $1.30/Sell at $3.99 = Profit Potential $2.69
---
2. SMOKE AND BBQ
You know smoke and BBQ are hot when there are festivals and competitions all across the country year after year to celebrate them! Not to mention that every BBQ sauce and smoking recipe is so unique that people are constantly testing out renditions and choosing favorites. Even manufacturers are continually adding new flavors of BBQ to fit growing trends. For instance, French's Cattlemen's recently introduced Chipotle (561760) and Kickin' Korean™ (561770) BBQ sauces. Thus, smoke and barbecue are always at the "top of the News Feed."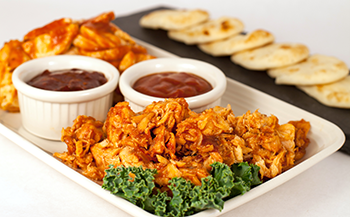 KOREAN BBQ CHICKEN & SALMON NAAN APPETIZER
6 oz FPI® Pulled BBQ Atlantic Salmon (928550)
6 oz Hormel Fire Braised™ Chicken Breast (953440)
4 oz Cattlemen's® Kickin' Korean™ BBQ Sauce (561770)
2 oz Bourbon Chipotle BBQ Sauce (see recipe)
6+ Stonefire® Naan Dippers (908670)
Heat salmon. Heat and slice chicken. Toss in half of Cattlemen's® Kickin' Korean™
BBQ Sauce. Serve with Bourbon Chipotle BBQ Sauce and other half of the
Cattlemen's® Kickin' Korean™ BBQ Sauce.
Bourbon Chipotle BBQ Sauce
Yield: 18
1 qt Smokehouse 220® Sweet & Spicy BBQ Sauce (631800)
3 oz Roland Chipotle Peppers in Adobo Sauce (561180)
4 oz Bourbon
Mix BBQ sauce, peppers and bourbon in a heavy sauce pan. Bring to a simmer.
Simmer for 15-20 minutes, stirring occasionally to prevent burning.
Cost: $6.88/Sell at $14.99 = Profit Potential $8.11
---
3. ADJUSTED MENU PRICES
Food cost, increased wages, the healthcare bill and trying to retain quality employees can all dig deep into a minimal foodservice profit margin as it is. The way to stay on top of it is to truly make it a priority to regularly analyze your profits and increase menu prices where and when needed.
---
4. UNIVERSAL RECIPES
This year, in many cases, the avian flu upset the whole menu process and ability to purchase daily staples. We have thus learned that we need to be able to quickly react to major shifts in our menu practices and markets. In order to do so, have an idea of and even promote what you can substitute for some of the main ingredients in each of your dishes. Your dishes will then become universal recipes that can be served with a variety of different substitutes and additions. You will be able to satisfy even more tastes as well as be ready if you need to make a menu change.
---
5. CREATIVE CENTER OF THE PLATE
Chefs continue to get creative by using different, underutilized cuts of meat to control menu pricing in some places while in other spots opting for unique and often upscale items to help set themselves apart from competitors. So, how do you figure out what to do to get creative while maximizing profitability? For starters, it takes regularly looking over your profits on each menu item with the help of tools such as Martin Bros.' Profit Analyzer. Then, let culinary expertise guild you. And, you could look ahead for one great recipe idea, too!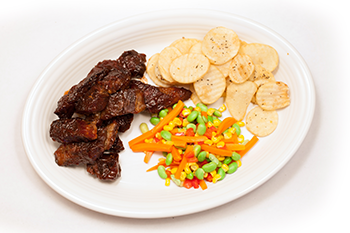 BONELESS BEEF RIBS PLATE
Yield: 4
2 lb Choice Beef Chuck Roll (930050)
As needed Grill Mates® Montreal Steak® Seasoning (471181)
1/2 cup Ken's Sweet Baby Ray's BBQ Sauce (560510)
24 oz RusEttes® Cottage Fries (960910)
16 oz American Harvest™ Edamame Vegetable Blend (964390)
As neededGrill Mates® Vegetable Seasoning (470201)
Cut chuck roll into 2-3 oz strips, season with steak seasoning, sear and roast in oven until fork tender (approximately 1 hour). Glaze with BBQ sauce and place back in oven for an additional 7-10 minutes or until sauce is tacky. Cook cottage fries as directed. Steam vegetable blend and season with vegetable seasoning.
Cost: $3.15/Sell at $9.99 = Profit Potential $6.84
---
6. HEALTH FACTORS
The fact of the matter is that health will likely always be a factor. But, how do you know if you've got the healthy factors on your menu that help draw in business and satisfy your customers? A good tip is to stick with some core designations that can fit many different types of diets year after year, such as low fat, low calorie, low carb, low sodium, all natural, gluten free and vegetarian/vegan.
---
7. 24/7 BREAKFAST
For a couple years now, we've been talking about this breakfast-all-day trend. This year, however, McDonald's addition of an all-day breakfast menu serves to make the trend even bigger. If a breakfast section isn't in your near future, however, think about incorporating a menu item or two that would be popular any time of day.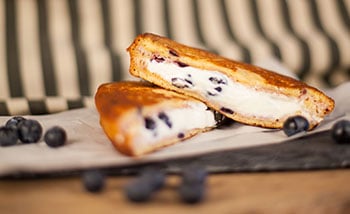 BLUEBERRY STUFFED FRENCH TOAST
Yield: 4
12 oz Cream Cheese
1/3 cup Powdered Sugar
1 Tbsp Vanilla Extract
1/2 cup Wholesale Blueberries (375250)
8 slices Rotella's Blueberry Bread (908650)
As needed Batter (see recipe)
Mix first three ingredients and fold in blueberries. Divide and spread mixture onto 4 slices of bread and top each with a remaining bread slice. Dip each sandwich into batter and place on a hot grill or skillet with butter or oil. Grill each side until golden brown.
BATTER
4 each
Eggs
1/2 cup Milk
1 tsp Vanilla Extract
Mix ingredients.
Cost: $1.51/Sell at $5.99 = Profit Potential $4.48
---
8. BIGGER BURGERS
Burgers were just burgers…until they started getting the custom treatment a couple of years ago. The possibilities for customization seemed limitless – from choosing your toppings to your own specialty bun. Now, the latest trend in burgers makes them even bigger! Everyone's adding in the ability to pile ingredients into the burger itself for an extra unique creation and huge burst of flavor. For instance, Rancher's Legacy has a patty that incorporates jalapeño!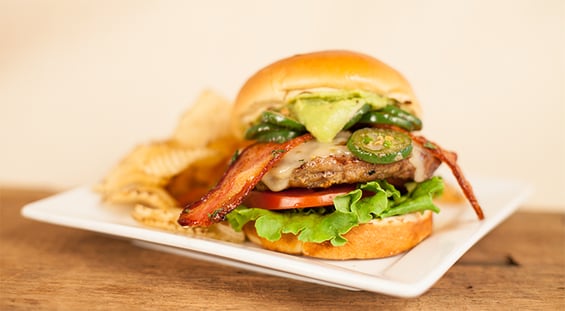 JALAPEÑO, AVOCADO & BACON CHEESEBURGER
1 each Rotella's Butter Brioche Bun – 4.25 in (907250)
2 oz House Cuts® Skin-On Lattice Chips (953270)
1 each Rancher's Legacy Jalapeño Beef Patty – 3x1 (934880)
2 strips Gold Medal Single Slice Apple Cider Bacon (914040)
2 each Bix Tomato Slices (348109)
1 each C.H. Robinson Green Leaf Lettuce Filet (360670)
1 1/2 oz Guacamole
1 each Capital City Jalapeño (361280), sliced
1 each Land O'Lakes Readi-Pac® Monterey Jack Cheese With Jalapeño Peppers Slices (900010)
Cost: $3.16/Sell at $9.99 = Profit Potential $6.83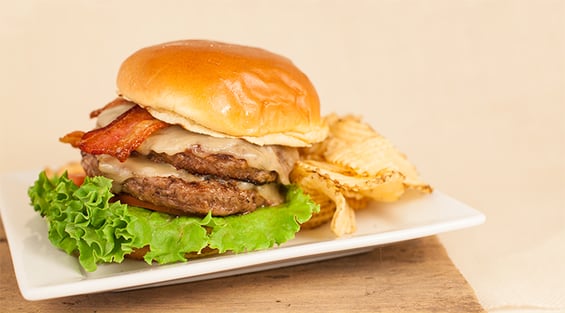 DOUBLE BACON CHEESEBURGER (CLICK THE LINK TO WATCH THE VIDEO)
1 each Rotella's Butter Brioche Bun – 4.25 in (907250)
2 each Provolone Cheese Slices (901830)
2 each Ultimate Burger Beef Patties – 3x1 (913700)
1 each C.H. Robinson Green Leaf Lettuce Filet (360670)
2 each Bix Tomato Slices (348109)
2 strips Gold Medal Single Slice Apple Cider Bacon (914040)
Cost: $4.03/Sell at $10.99 = Profit Potential $6.96

---
9. SMALLER FOOTPRINT
Utilizing products as well as features in your building that take up less space and are more environmentally-friendly are becoming more and more important factors for success. Having a small footprint can help save time and money as well as attract business. Manufacturers continue to introduce new products that fit this trend, such as Sugar Foods' recent kickoff of Ecostick Zero Calorie Sweeteners (572650, 572660, 572670 and 572680).
---
10. NEXT GENERATION CUSTOMER SERVICE
Customer service is becoming increasingly important in food service, as we're seeing more and more factors come into play that can affect and publicize a guest's experience. For example, the need for menu price increases and staff shortages make it necessary to make sure you are counterbalancing with excellent customer service. And we're not only talking about the customer service that you provide inside your establishment. The customer service that you provide online – on your website and through social media – is equally important, as online opportunities to increase and nurture your customer base continue to grow.